AML Bridge initiative
In collaboration with leading Estonian banks, in September 2020, Salv embarked on an ambitious project – to build Europe's first cross-border AML information and data exchange platform. A year on the AML Bridge network is operational, resolving real AML & fraud cases, and ready to expand.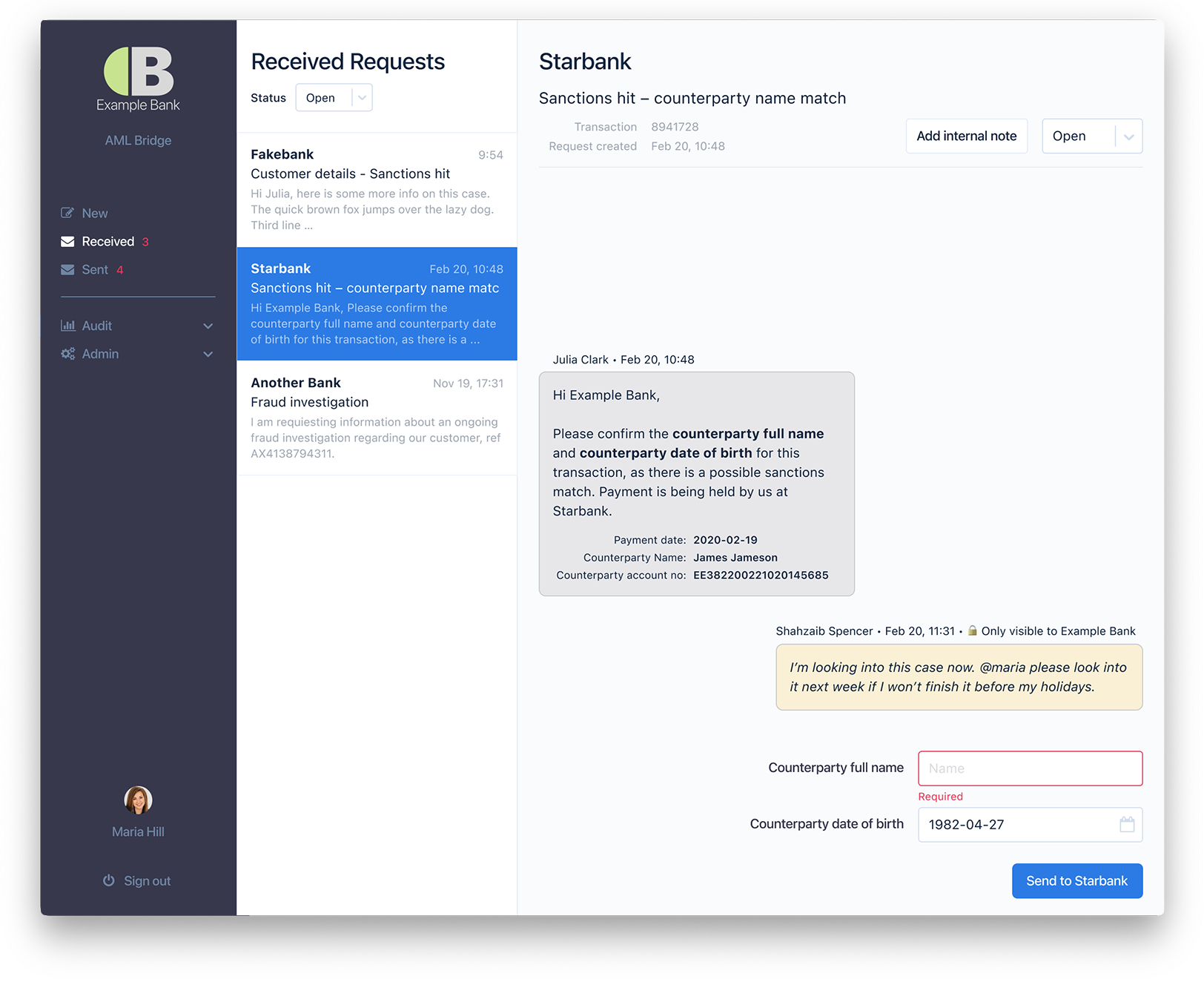 Bridging the AML intelligence gaps
Criminals operate across borders, across legal jurisdictions, using sophisticated AML schemes to evade both detection and prosecution. Money laundering is a global issue, but until now financial institutions have tried to tackle it alone, in isolation, using only partial information.
AML Bridge changes that. It takes a network to beat a criminal network, so by connecting hard-working AML teams across hundreds of financial institutions across Europe, Salv is working to fundamentally disrupt organised crime networks that move trillions, globally, every year.
Collaboration partners
Salv thanks Estonia's leading financial institutions – Swedbank Estonia, SEB Estonia, Luminor Estonia and LHV – for their pioneering role during the AML Bridge Estonia pilot. Since then, other prominent Estonian banks – Coop, Citadele, Inbank, TBB, Bigbank and OP Bank – have joined the network, giving AML Bridge 100% domestic market coverage.
The AML Bridge pilot has also partnered closely with the relevant regulatory authorities including the Estonian Financial Supervisory Authority (FSA), Estonia's Financial Intelligence Unit (FIU) and Estonia's Data Protection Inspectorate (AKI).
Piloting the future
Helping Estonian banks to collaboratively solve real AML & fraud cases is a great start. That's why the Financial Action Taskforce included Salv in its 2021 data-sharing innovators report, and RUSI featured AML Bridge in its 2021 review of leading FinCrime initiatives.
But as Europol's SOCTA 2021 report detailed, 7/10 criminal networks operate across at least three countries. To seriously disrupt criminal networks, AML Bridge needs to go regional, and eventually global. In November 2021, the initial pilot phase concludes. But expansion is already underway – into Latvia, Lithuania, and the UK, with continent-leading fintechs set to initiate AML Bridge's first cross-border investigative collaborations.
I am very pleased that this project has been launched. It shows not just our community's theoretical understanding of the need to cooperate to tackle money laundering and terrorist financing, but also the practical steps to make it happen. It is a useful additional solution next to our everyday systems in this field.
Allan Parik
CHAIRMAN OF THE ESTONIAN BANKING ASSOCIATION AND SEB ESTONIA CEO
Timeline
Launching in October 2020, AML Bridge has made tremendous progress in its first year.
March-September 2020
Step 1
Concept validation
Working with Swedbank and SEB as part of MasterCard Lighthouse's accelerator program, Salv developed the initial concept for AML Bridge, and validated this with two of Europe's top 35 banks.
Result: Memorandum of Understanding signed with Estonia's four leading banks, pilot timeline and scope agreed.
October 2020-October 2021
Step 2
One-country pilot
Over 8-9 months, Salv conducted a full regulatory assessment, received DPO, IT-security, and legal approvals, built the MVP platform and tested it, firstly with synthetic data, and then with pen testing. In the final 2-3 months, now 7 banks began exchanging live AML data and solving real AML & fraud cases.
Result: Prove AML Bridge has facilitated hundreds of collaborative investigations, worth hundreds of thousands in terms of fraud losses prevented, but even more in AML identified and reported. For full data on our pilot findings and key learnings, Salv will release an updated white paper in November 2021.
July 2021-onwards
Step 3
Network scaling
Salv is already negotiating contracts in three key expansion markets – Latvia, Lithuania and the UK – and in numerous discussions with governments, regulators, leading banks and key AML industry stakeholders across Europe and beyond.
Result: by 2025, Salv aims to have connected hundreds of financial institutions across dozens of countries – in Europe, and beyond – delivering large-scale crime-disruption, via both prevention and successful prosecution.
Technology
The technology underpinning the AML Bridge platform is continuously evolving. Using key-protected end-to-end encryption to ensure the highest data privacy standards, AML Bridge is fully compliant with the latest AML/CTF, Bank Secrecy, and GDPR regulations.
Starting with simple team-to-team messaging, AML Bridge is now expanding its case management & prioritisation features, as well as enabling multilateral messaging, and automating various messaging functions to drastically reduce manual inputs. All of which delivers huge advances: in speed, effectiveness, and efficiency.
---
Q&A
Financial crime and money laundering is a key challenge facing the European and global economy. Criminals launder up to €4tn every year. Proceeds of this continue to fund trafficking of drugs, weapons, even humans. Today, less than 1% of this money is successfully captured.
Criminal networks operate globally, but financial institutions (FIs) are not currently able to share vital fincrime information among each other and across borders and legal jurisdictions.
That's why we built AML Bridge — to make a way for FIs to access the intelligence they need from other FIs to effectively, and collaboratively, fight financial crime.
AML Bridge Estonia is a project initiated in Oct 2020, by Estonia´s leading banks together with regtech Salv and with full support from local regulators Estonian Financial Supervisory Authority and Data Protectorate Inspectorate and Financial Intelligence Unit.
The aim of AML Bridge Estonia is threefold.
1. To prove that AML intelligence sharing between banks is possible within the current regulatory framework?
2. To prove that AML intelligence sharing platform provides the necessary security and privacy safeguards for Estonian banks.
3. To prove that AML intelligence sharing helps to solve a key problem for Estonian banks.
AML Bridge was initiated by four of Estonia's largest banks, covering 90% of Estonia's banking market — Swedbank, SEB, LHV, and Luminor — along with Salv Technologies as the technology provider.
During the year other prominent Estonian banks – Coop, Inbank and TBB – have joined the network, giving AML Bridge 99% domestic market coverage. And there are more banks waiting to join the network in coming months.
The AML Bridge comes with full cooperation and support from Estonia's Financial Supervisory Authority, Data Protection Inspectorate and Financial Intelligence Unit.
The platform itself is developed by Salv Technologies — an Estonian-based regtech providing AML technology launched in 2018.
The list of cases, where additional AML Intelligence sharing could help catch criminals and make life easier for good customers, is long.
Salv together with the Estonian banks identified 15+ use cases for AML Bridge, already four of these are being realised:
Fraud recall: connecting banks to successful "recall" payments that are suspected as fraud; freezing the assets while investigations take place, and then returning if fraud
Transaction monitoring: the exchange of additional data connected to individual transactions is helping banks establish stronger/more accurate cases for lodging suspicious activity reports (SARs) for law enforcement to prosecute
Sanctions hits: banks are obligated to conduct screening on accounts to check for known blacklisted individuals; this process often produces 90% false matches, AML Bridge is helping speed up clarifying if alerts are real hits, or false alarms
Money-laundering: complex investigations spanning multiple institutions are being completed, due to missing data gaps being resolved, thanks to AML Bridge
Then there's the discussions around expanded use cases. We´ll detail these at the appropriate time, but suffice to say when it comes to moving from bi-lateral to multilateral messaging, from manual to automated messaging, and from hundreds to thousands of investigative collaborations, then there are some truly exciting developments just around the corner.
AML Bridge is an information and data-exchange platform that enables financial institutions to fight crime more effectively. The platform enables financial institutions to share fincrime-relevant information and piece together complex criminal operations.
It is secure and fully-compliant with the latest data protection regulations. As a result, AML Bridge can help financial institutions proactively co-operate across borders, across legal jurisdictions, and against transnational criminal networks.
Every day, banks screen millions of transactions, looking to stop criminal networks from laundering money or scamming innocent people via their institution. But complex fincrime schemes happen across multiple financial institutions, and each bank only sees one part of the bigger picture. AML Bridge helps to fill in the missing puzzle pieces, by securely connecting financial institutions.
AML Bridge allows fincrime teams to exchange their deep-dive investigative AML, fraud and scam findings and suspicion between the institutions.
AML Bridge connects FIs via a secure and privacy-protected platform, provides alert case management for AML teams & regulator-friendly audit trails and enables automation of messaging by standardising data inputs.
AML Bridge is a web application that Salv hosts and maintains. It enables the sending and receiving of instant information requests between banks.
AML Bridge uses end-to-end encryption as well as a password-protected key system, in addition to 2nd-factor-authentication (2FA), IP whitelisting and additional security measures. Furthermore, Salv has no access to data exchanged via the AML Bridge network, but helps financial institutions ensure data- minimisation practices by using closed/set fields, and meeting data deletion/collection standards outlined in the EU's General Data Protection Regulation (GDPR).
From what banks have shared is the most value for them:
It gives banks the speed they need to investigate faster - based on the data we see from the pilot cases are being resolved as little as in 3 minutes, with an average time around 15 minutes - a massive improvement on 24-48 hours.

It has helped to save millions of customers' money reaching criminal controlled accounts.

One bank reported a single case where 45K was prevented from reaching scammers, thanks to AML Bridge.

Another bank informed us that AML Bridge was already saving between 50-100K per week – across just a few dozen cases, connected to just three banks in Estonia.

Better SARs:  higher quality data = better likelihood of an effective SAR = more prosecutions.

Crime-fighting impact: as detailed above – 45K in single instance, 50-100K per week criminal proceeds intercepted. Stops crime, raises morale of AML/fraud agents.
Every year, customers lose millions – according to PWC, even billions – through scams, or fraudsters impersonating banks or businesses and tricking customers into transferring away their money. Speed is the most important factor in successfully recalling scam payments – if it takes hours or days, the money is gone, if it takes minutes, the money can more often than not be successfully reclaimed.
Over the longer term, bank customers win when their financial institutions know more quickly who's truly suspicious and who's not. Onerous and repetitive KYC processes can be reduced for customers who show no signs of AML risk across the financial system. And less delays with payment processing means customers can have an overall smoother experience.
The legal framework of AML Bridge lies on three pillars — GDPR, the Banks Secrecy Act, and AML regulations. All laws and regulations must be satisfied in order for fincrime intelligence sharing to work. Fortunately, recognizing the importance of combating the risk of money laundering, AML regulations across Europe have explicitly encouraged more collaboration between financial institutions.
In Estonia, the AML Bridge has engaged legal support from law firms to ensure each chosen scenario is legally compliant. AML Bridge has also partnered closely with the relevant regulatory authorities including the Estonian Financial Supervisory Authority (FSA), Financial Intelligence Unit (FIU) and Data Protection Inspectorate (AKI) to ensure the full compliance with regulations.
If you are in the European Union (or UK), then it is legal to exchange customer data via AML Bridge, providing you adhere to the appropriate data protection and data minimisation standards outlined in the EU's General Data Protection Regulation (GDPR). A recent opinion statement by the European Data Protection Supervisor supports this interpretation; for countries outside the EU please contact us to discuss your circumstances.
Estonia is a tiny, fast-moving nation that has innovated on tough problems over and over again. Home to Skype, Bolt, TransferWise, the world's first e-residency, and NATO's cybersecurity headquarters — Estonia has some of the most startups per capita of any European nation. It's a perfect place to launch a groundbreaking, collaborative AML crime-fighting pilot that will change the future.
The AML Bridge pilot is the only one of its kind to work on sharing vital AML intelligence between Financial Institutions (FIs).
However, there are several ongoing pilot projects across the world using PET (privacy-enhancing technologies) to combat various forms of financial crime in other manners — the most common being using or checking third-party data for KYC (know your customer) and joint transaction monitoring for AML. The best single source for information is https://www.future-fis.com/.
Most projects are in the planning stages or testing their pilots on synthetic data. Many of the projects, for instance in the UK, the Netherlands, and Australia, have been years in development and will take many more years to provide their first value for participants.
AML Bridge on the other hand — leveraging Estonia's small size and the ability to move fast — plans to deliver real-world value to participants within 6 months or less.
For many in the Estonian finance community, the AML Bridge Estonia pilot is just the beginning. The ambitions remain far greater. If AML Bridge Estonia is successful, Salv is interested to expand use cases and capabilities, as well as conduct similar pilots in other countries across Europe.
It is Salv's goal that before the end of 2021, banks across Europe will be sending hundreds, perhaps even thousands of messages to each other, every month, via AML Bridge. By 2025, we expect to progress this number into the millions.
Keep up-to-date
Want to keep up to date with the AML Bridge Estonia pilot? Leave your email below and we'll occasionally send you an update — around once a month.