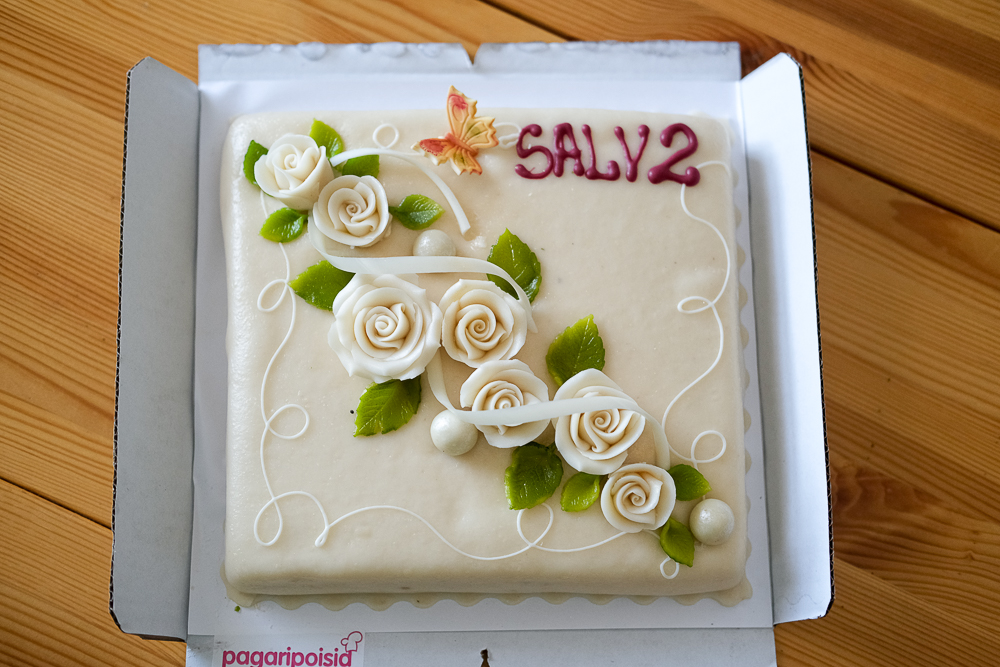 In July we hit a pretty big milestone. Well, for a startup, that is. We turned 2!
Sadly, one out of five startups never hit their second year, which is why we feel pretty grateful we've made it this far and are on track for many more years ahead.
So, as a mini celebration, we talked to a bunch of Salvers and decided to write down a bit of our history — before it gets lost in time.
Winds of change were blowing
In 2017, with their 4th little one on the way, Taavi — Salv's CEO and co-founder — and his wife, Kaisa, decided maybe it wasn't a bad idea for Taavi to step away from TransferWise and take parental leave to watch their family's newest addition. So, in July of 2017, Taavi did exactly that.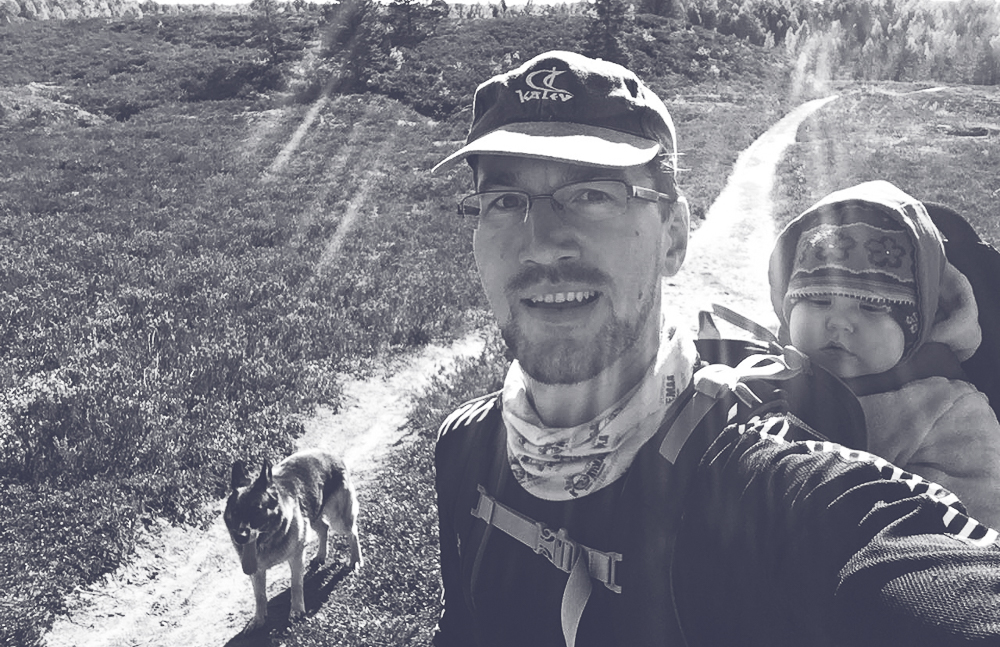 Babies are definitely cute, but they're not much for conversation. So, after a while, Taavi found himself longing for adult talks and adult problems — well, problem-solving. So he started diving into new projects while their little one rested or played. Taavi was advising a bunch of startups — anything from medical cryptocurrencies to child development to budding fintechs — doing risk analysis on self-driving cars for the Estonian government, and trying his hand in angel investing.
Which is why, by early 2018, Taavi was already calling a babysitter more and more often, and realizing with a bit of guilt that he was a little less on parental leave and more on budding side projects.
Feb 2018 Opportunity came knocking
Enter Moly from NWA.
In some ways, Moly's message couldn't have arrived at a better time. Moly worked with Jeff and Taavi — 2 of Salv's co-founders — in Skype so they went way back. Taavi and Jeff were smart data guys in the Fraud space and Moly was well connected.
Moly first approached Jeff.

However, when Moly reached out, Jeff was still happily working on huge, fun challenges at TransferWise. He wasn't ready for something new which is why he happily suggested to go ahead and reach out to Taavi. Moly did.

After Moly reached out, rumour has it that Taavi gently turned him down saying, "Although it sounds really really fun, if I take this gig, I'm worried I might mess up my kids for life and my marriage may just fall apart. And, plus, I'd need to hire a full time babysitter and driver to replace me. So, thanks for thinking of me, but I'm afraid I can't."
Okay, well Taavi didn't use those exact words, but something along those lines.
But Moly was persuasive. So, after lots of chats and negotiations, and discussions between Taavi and his wife Kaisa, agreeing he'd only do "a little bit" with Moly, Taavi accepted the gig.
Little did any of them know that this "bit of work" would become the company we are today. But we're getting ahead of ourselves a little.
Between his own set of already growing requests, coupled with new contacts from Moly, it seemed Taavi was re-joining the working world at breakneck speeds. In fact, it was quickly clear that it was work for way more than one person, especially if Taavi wanted to keep to his agreement with Kaisa and stay at home at least part of the time with their little one who was turning one in March.
So, with at least three times more projects than people, it felt to Taavi like it was the right time to form a company. So Taavi talked to a lawyer friend of his, they threw together a name — Dataminer OÜ. Which meant it was now time to start finding people to join.
Jul 2018 Come join a vague consulting company!
Taavi, always the social butterfly, began to quickly convince friends and former colleagues to join him on his quest to help other companies that needed data. Listserv emails, coffee chats, facebook messages, LinkedIn reachouts — Taavi began using his hustling skills.
"Hey. Are you into data or data science? If so, do you want a side gig helping other companies with data?"
Somehow, he managed to persuade a number of brilliantly smart folks to join — and that's how Dataminer OÜ became a data consulting company full of great data science minds.
Aug 2018 Add some fun?
Ask Taavi, or, better yet, ask his wife Kaisa, and they'll both note that he's better with numbers than with "group dynamics." But even Taavi noticed that our data scientists still need some fun every once in a while.
Which is why our newly-founded, fledgling consulting company had our first "fun" offsite in late August. Along with planning, of course — gotta have something practical in there, right? Seven out of 8 Dataminers attended.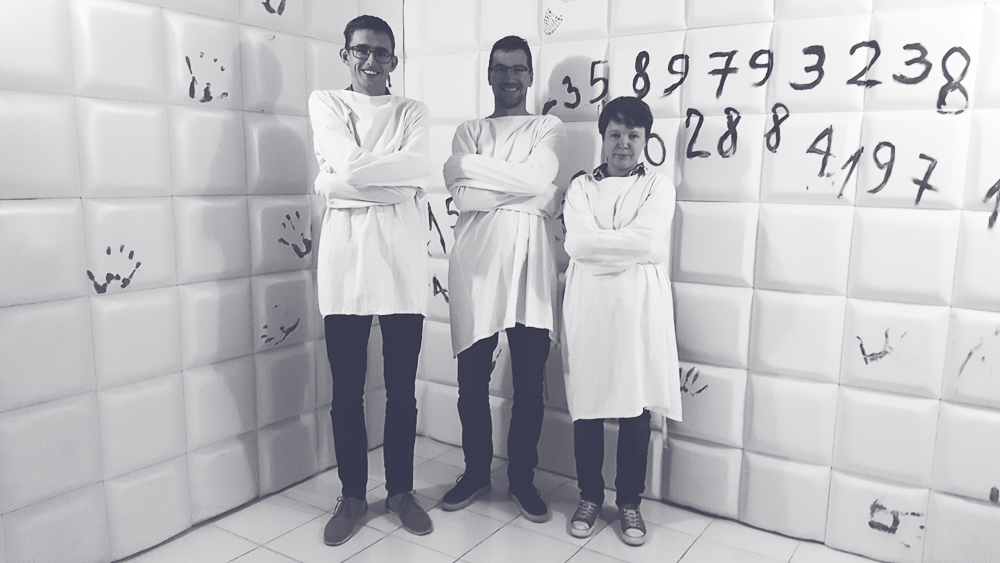 As everyone gathered around and planned, it became clear that, gosh, there sure was a lot to do!
Sep 2018 Compliance rules
Soon, our tiny team of Dataminers were tackling some pretty complex data problems with some pretty decently-sized businesses. But, as our work continued, a theme seemed to develop. It wasn't just data — a lot of the struggles popping up were around compliance.
This is when it dawned on us that we'd need to expand our skillsets strategically, rather than just sweeping up every data scientist friend willing to join the cause. (Although, let's be frank, data scientists are great!) But we'd need to figure out what we needed, and then hire for it.
And, by late autumn, it was even more clear that the largest problems to tackle were around managed fraud services and helping a few larger companies improve their AML confidence, detection, and technology. So we hired a few folks with compliance backgrounds to help level up our expertise and soldiered on.
Nov 2018 Let's pivot!
By winter, we definitely had a client that was taking up far more time than others. Let's call them "Firstly." "Firstly" had tens of millions of customers and needed lots of hands-on help with anti-fraud. For a little consulting company, it was pretty tiring. That's why in August we'd already started automating a lot of our work for them. To be honest, although it was definitely rewarding, consulting wasn't easy. And, as we took on more and more clients, it felt nice that they funded our work and our hiring. But in the end, if we wanted to grow we needed to be brutally honest with ourselves — consulting wasn't going to scale.
That's why, a few months in, we had a revelation, "We can take it a step further. Let's build an actual platform to do the job we're already doing. Maybe others could benefit from this same product." So we started building a completely bespoke fraud solution for "Firstly" that detected fraud patterns from their data.
Soon, our work was automated, the quality had increased, and we started dreaming of building a single fraud solution for many other companies.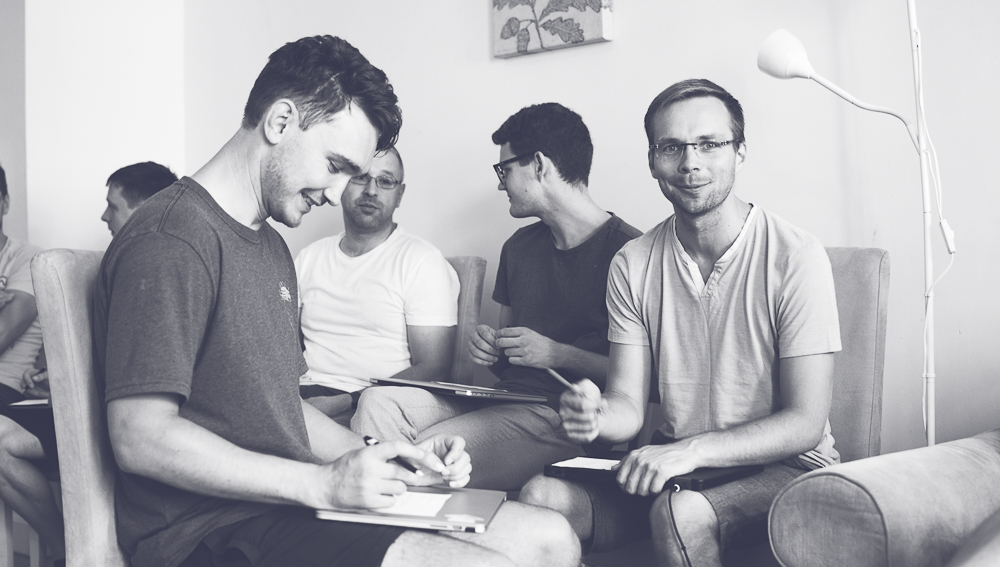 After some serious talks on the team, we decided it was now time to pivot from a self-funded consulting company, to a company that built a product.
But if we were going to build a real-life product, we'd need to change our entire mindset, tech, talent, processes, communications… and, well, funding. We'd need some money if we were going to build this thing.
Dec 2018 Looks like we need investors
By the end of 2018, our team was already 10+ people strong. But it became clear that if we really wanted to develop a real product platform, then we'd need a crop of talented people and time to learn, build, and validate it. And for this we'd need additional capital to pay their salaries and buy us some time. Which meant we might need to find some real investors.
Personally, we'd never investor-scouted before, but luckily we had a network of friends and families that were quite experienced in the art and helped us along the way. So we jumped in headfirst.
To our surprise, after several months of searching and chats, not only did we find some great investors, we actually needed to turn down a bunch. We had no idea investing was so competitive. In the end, it took a little more than half a year to secure over 2 million in seed funding and a terrific set of mentors from Fly Ventures, Seedcamp, United Angels, Passion Capital, and a number of angels.
Apr 2019 Enter Jeff. Finally.
No founder can do things alone.
Thankfully, starting in the summer of 2018, Jeff had been roped in many times to our planning and brainstorming. And by early 2019, Jeff realized he'd accomplished what he wanted to accomplish at TransferWise and was ready to move on to new challenges. So he finally agreed to join us full time. With his intelligence, mind for product development, and incredible people skills, it was a huge step up for all of us.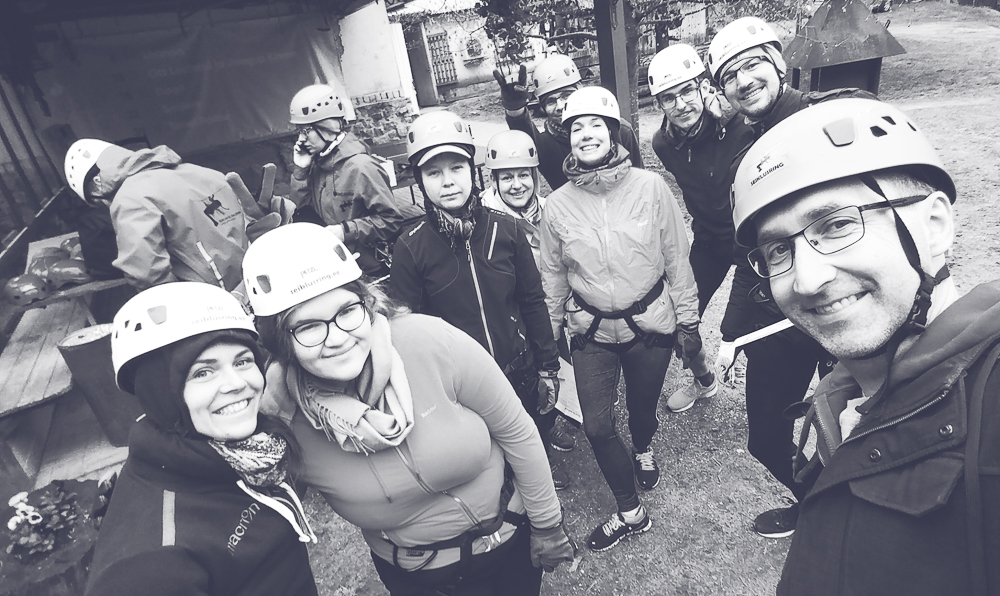 May 2019 Normal startups pivot twice in 5 months, right?
Many of our Salvers come from compliance backgrounds — KYC, anti-Fraud, AML. In fact, our third and final founder joined around this time, Sergei, our CTO and former head of KYC engineering in TransferWise. Our biggest client "Firstly" needed help with fraud detection, so it only made sense we focused on that area. But, as we worked further, we noticed two things it was important to pay attention to.
First, what was out there on the market for fraud solutions was good. Like, really really good. Although what we built was nice, if we were really honest with ourselves, there were better options out there for "Firstly."
Second, one of our investors, also realizing the previous, noted that the AML space has, by far, the greatest market need. Globally, an estimated almost $2 trillion is laundered every year (1), but at last count, only an estimated 0.2% is caught. That's it. When we began running all those numbers in our heads, we realized we couldn't ignore the AML problem.
It seemed it was time to pivot, again. And create a focus, a brand, and a mission — "beat financial crime" — to help tackle it.
Jun 2019 A new focus needs a new identity
As we rolled into the summer of 2019, it was clear to all of us that we'd outgrown our name, Dataminer. We'd gone through a full transformation of a consulting company full of data scientists to builders of Fraud software, to now builders of AML software. And it was time to find a brand to reflect that.
So we went through a long process with some incredibly talented people to not only generate a new name but come up with a whole design aesthetic. Thankfully, it worked!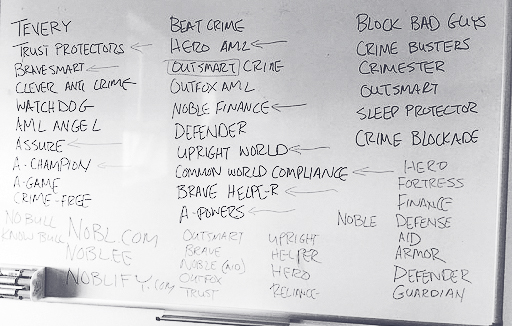 Embarrassingly, here were some of our initial brainstormed ideas. We're so glad we eventually crossed them all off. Although we decided on our new name in June, we decided to keep it a secret a little bit longer, and waited until December before we officially launched Salv.
By the autumn, we'd said our goodbyes to "Firstly" and began signing our first AML customers.
By the end of the 2019, we were 20+ strong with a team we were very proud of. Startups are known for taking a bunch of folks straight out of Uni who try to solve a really really big problem that's way bigger than they are. And, true, a few of us are still in school — mostly working on PhDs — but the rest of us have been doing what we've been doing for years. More than half the team are old hats at fighting financial crime. Which means, we were beginning with a surprisingly mature startup. In fact, we just calculated. Our average age is 33.
Jan 2020 Starting with a few big bangs
For Salv, 2020 started with a big bang — not the virus, that came a little later. Our launch in December won the startup community's Big Bang award for 2019. With close to 1,000 startups in the Estonian startup scene, we felt pretty darn special. We also won Restart Podcast's annual investor vote — a title previously held by some pretty great startups you might have heard of like TransferWise, Bolt, and Veriff. We felt pretty good about it.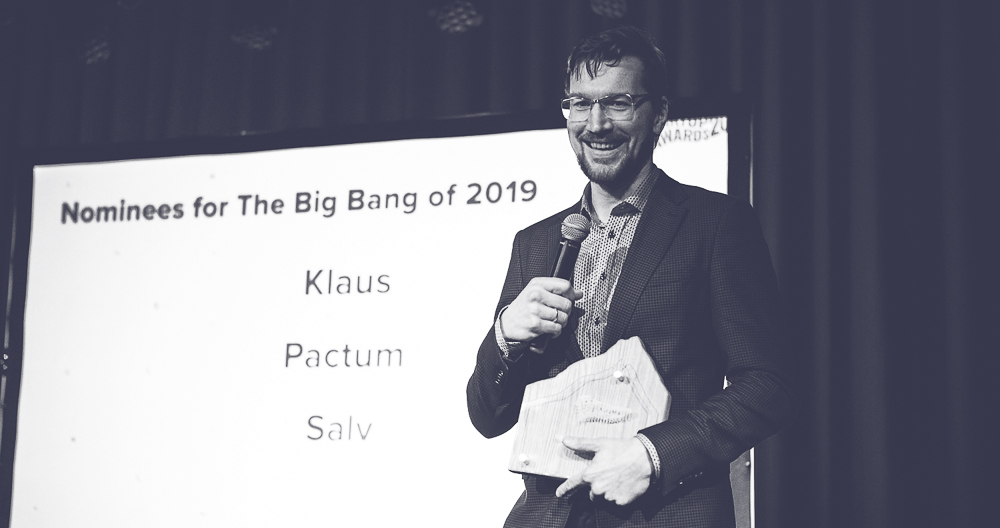 More great news followed in February when we were selected for the Mastercard Lighthouse Spring Class of 2020. (2) Over 450 startups from Estonia, Denmark, and Norway applied for the program and Salv was selected as one of 15 startups to participate. A program where established Nordic banks + innovative startups = new, visionary financial solutions.
Apr 2020 Corona made us stronger
Estonia wasn't spared from the COVID-19 pandemic. And, like much of the rest of the world, our entire team quickly left our office behind and became entirely remote overnight. Those first few weeks of corona were a bit scary for all of us as adjusted to life with one another behind computer screens. But, aside from realizing we needed more comfortable chairs in our homes — and maybe a few power naps with our kids — not much changed on the business side. Companies struggling with AML pre-pandemic were and are still in the same boat. They still need help. And, sadly for the world, criminals are still as active as ever — some even moreso.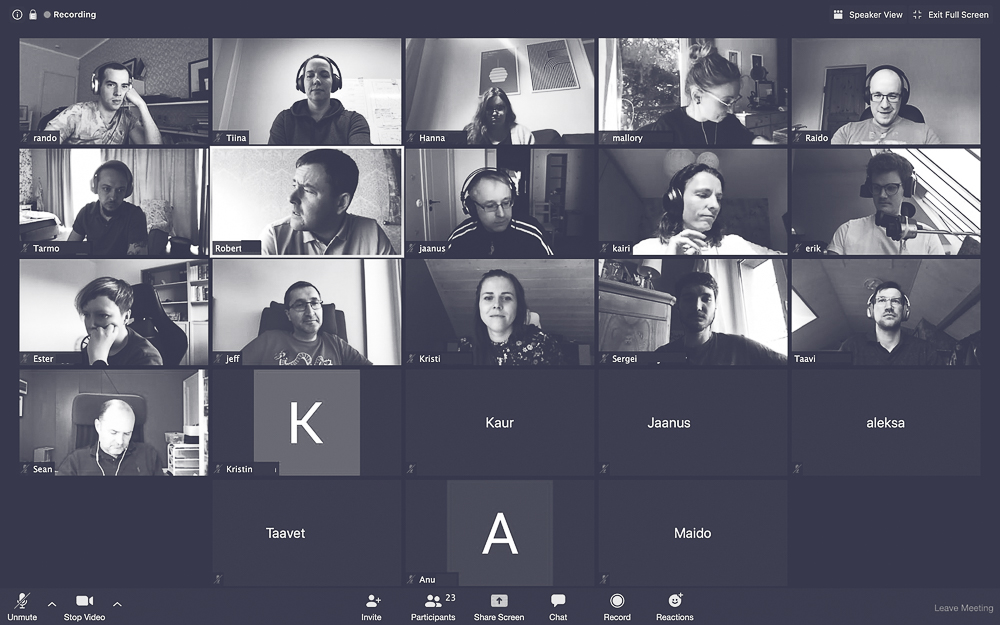 Over our time of social distancing, we developed a few new work practices from our remote-working that we're keeping. Many of us realized we didn't miss the commute and really enjoyed the extra time with our families, so now we work much more remotely than we did pre-pandemic. Also, we loved having everyone on equal footing during our weekly team calls, so now everyone attends in front of their own laptops. But what we especially love is that it helped us bond with team members in other cities and nations in ways we probably wouldn't have before.
Jul 2020 Launching a revolution
Did you know that less than 10% of financial control leaders believe they have enough information inside of their financial institutes to understand the serious underlying crime threats? (3) Abysmal.
It's time to change that. As a part of the Mastercard Lighthouse Incubator, we've been working with several financial institutions in Estonia to begin the launch of what we hope will be a revolution in AML data sharing.
Imagine a world where financial companies can lean on the knowledge and investigative work of other key players who have been investigating the same criminals — but without the possibility of any PII or data breaches. That's where our new pilot is heading. A platform built on some of the best privacy-enhancing technology out there, built to help banks and fintechs finally get ahead of the criminal networks that, so far, have had the advantage.
We can't wait to launch.
What's next?
Despite summer heat and corona still raging in many parts of the world, life at Salv hasn't really slowed down. We're still speaking with potential clients, still moving forward with our favoritest-pilot-ever, and still hiring a few more folks to help us beat financial crime.
For all of this, and so much more, we're so very grateful. We've laid a solid foundation and are certain it will set us up for tremendous success in the years to come.
P.S. If you're an engineer or an AML person who loves people, check out Salv's jobs page for the handful of open roles we have.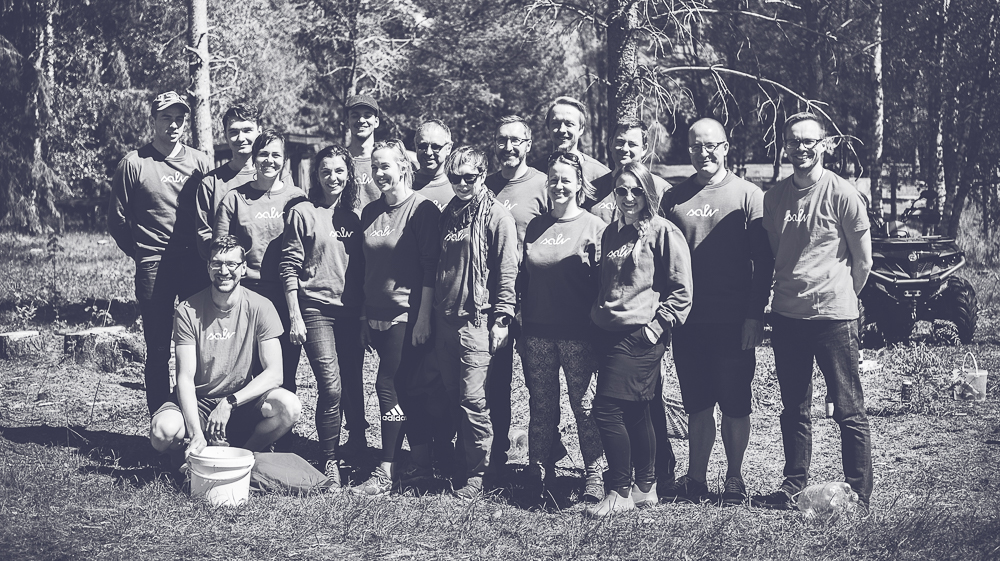 References