Last week, Salv together with the Lithuanian AML Centre of Excellence, hosted a FinCrime Experts Meetup: "Fighting fraud through technology and collaboration" at Rockit Vilnius. More than 70 FinCrime experts joined onsite along with more than 220 more, who followed the event online. In case you missed it, you can catch up at RockIT Youtube channel.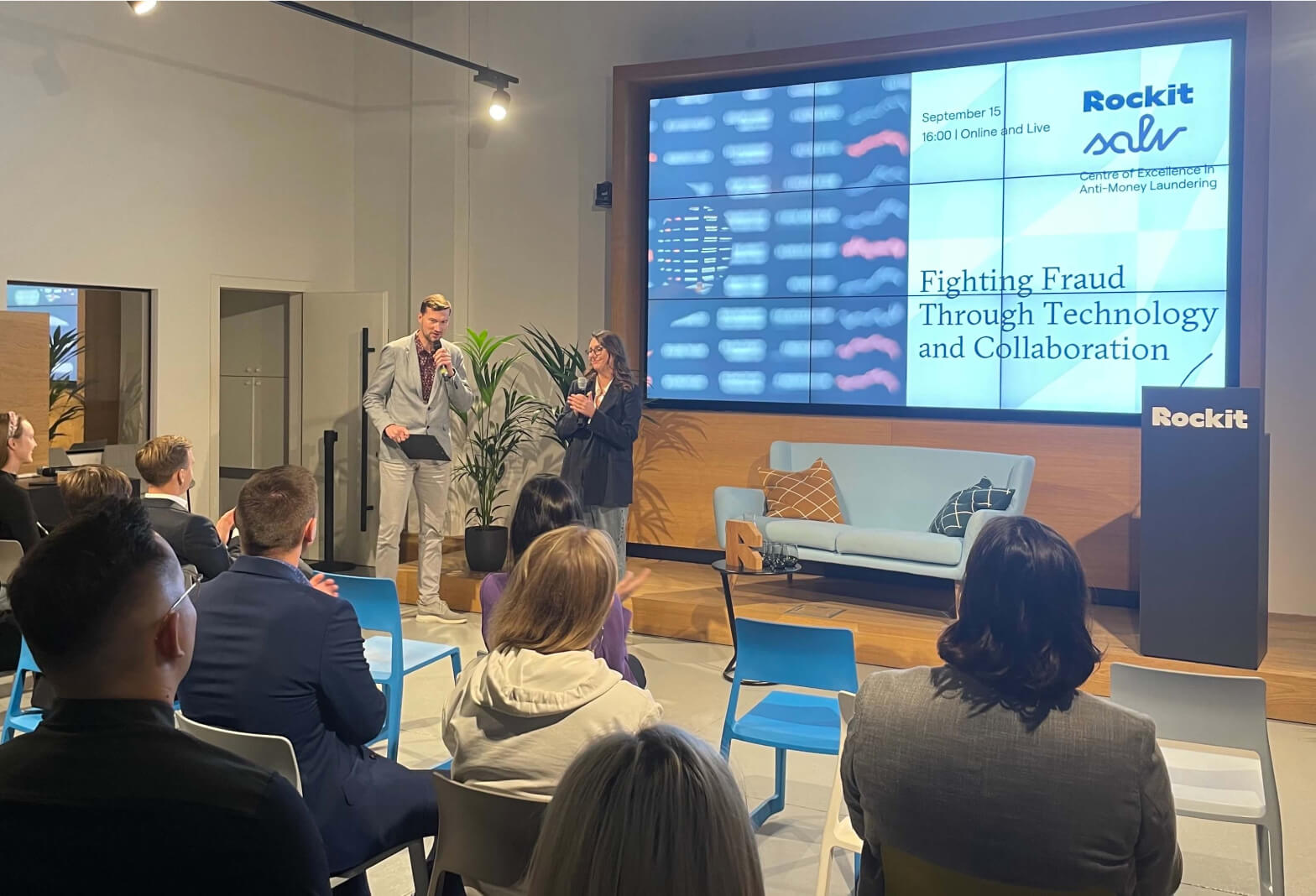 We started the evening with Elčin Mamedov from the Lithuanian AML Centre of Excellence walking us through how the AML Centre was born as a public-private partnership initiated by the Bank of Lithuania. And how the Centre, which has been operating only since summer 2021, has already successfully connected with key relevant stakeholders and joined forces to tackle emerging scam cases. The AML Centre has successfully formed a safe environment for the banks to put their tactical plans in motion, to share intelligence with each other and learn faster from the scam cases so that it's possible to educate and warn the public from future crimes.
Linas Sadeckas, from the Luminor Group Fraud team gave us the bank's perspective on the latest trends and impacts of fraud and how they are tackling it. The numbers show a drastic change for the worse, with €4.8m in fraud losses in Lithuania in 2020 to €5m in only the first half of 2021. It's a trend that's not slowing down anytime soon, as the criminals are getting smarter and more organised. Linas walked us through some of the popular scam cases – romance and invoice scams, and how quick response and cooperation with banks across borders has helped to return some of the money to the victims. Sadly not all cases are as successful.
Taavi Tamkivi, CEO and founder of Salv then introduced the AML Bridge Estonia initiative. He explained how in just one year the major market players (Swedbank, SEB, Luminor, LHV) decided to join forces and form an anti-crime network to start collaborating and sharing FinCrime-related intelligence. How Salv helped to build the secure AML Bridge platform, a technological solution that makes such information-sharing possible and in a way that's fully compliant from the regulatory perspective. Taavi also shared how more and more banks in Estonia are already joining the network, covering up to 99% of the market and how Bridge has helped already to stop some great losses and money that would otherwise have reached criminals. He also explained how AML Bridge is already growing the network outside Estonia, as criminals don't stop at borders.
The short presentations were followed by a panel discussion with Eimantas Vytuvis, CEO of the AML Centre of Excellence, Reda Stanytė, from the Bank of Lithuania, Andrius Merkelis from Fintech Hub LT and Greta Barkauskienė from the Financial Crime Investigation Service, which was moderated by Taavi Tamkivi from Salv. Here are some highlights from the panel.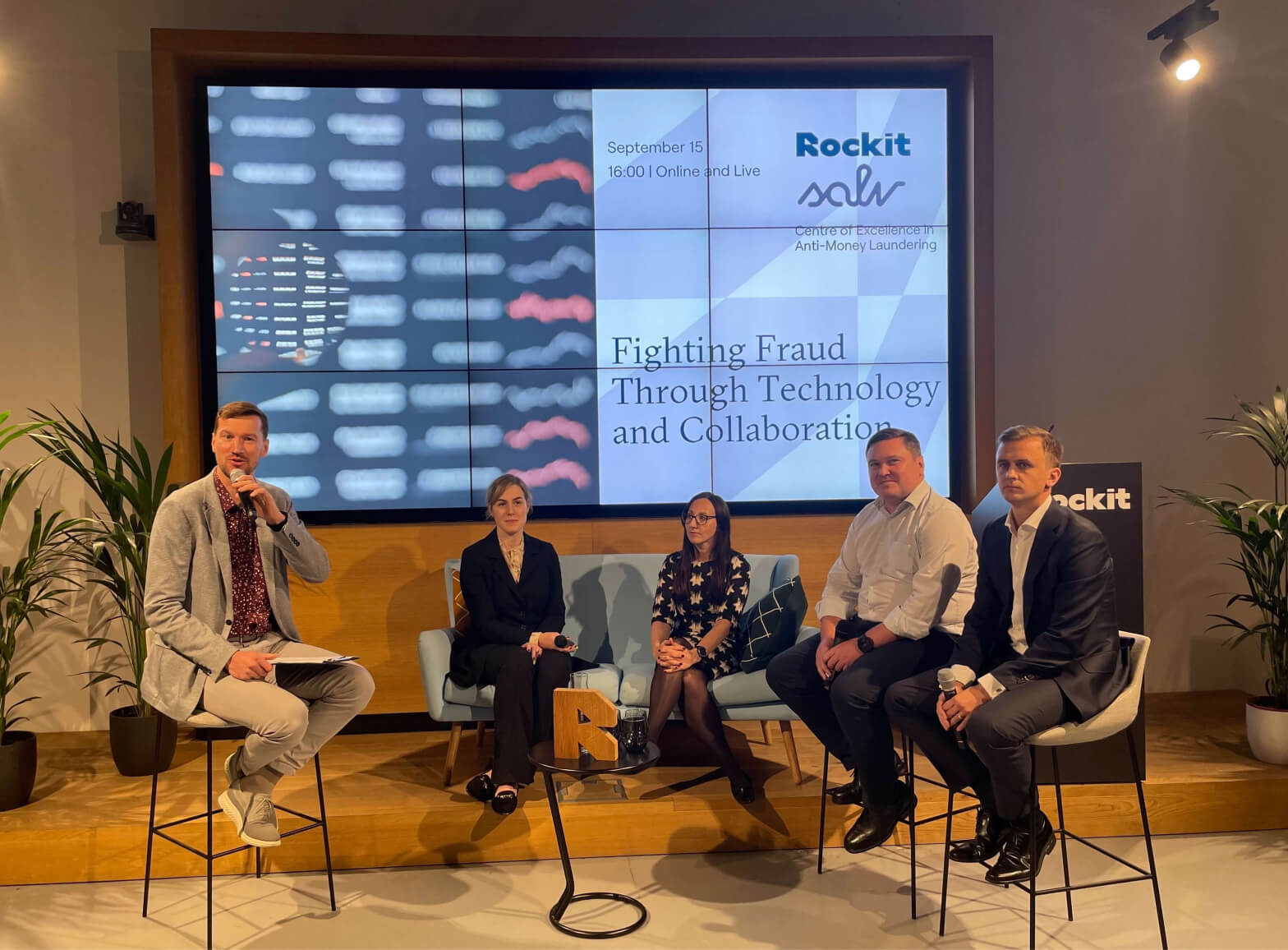 The pandemic implications was a topic taken up from different angles. Two main reasons were pointed out – on one hand, people have more free money so they are more open to different investment opportunities and therefore easier prey for investment scams. On the other hand, many people have lost their jobs and been tricked into selling their bank accounts to criminals, which in turn are used for further scams and makes the detection of fraudulent activities especially hard for the banks. In addition to the pandemic the new emerging technologies like insta payments give more opportunities for criminals and allows less time for banks to stop the money. So speed is more relevant than ever.
A question was raised whether we should be concerned that emerging fraud cases are taking up more attention and shifting the focus from more complex money laundering schemes. Most agreed that it's on one hand a matter of resources, but most importantly a matter of competence and needed skill-set, that is the clear challenge. No regulation, or technology alone will help if people using it don't have the required competence in place. And this boils down to having, or not having, a compliance and crime fighting mindset from the top management. Those who have it are also more willing to invest into their team's competence building as well as technology.
The importance of collaboration and the lack of efficient ways to share information with other banks, as well as the public sector, was brought up: it's hard to respond to complex modus operandi if you don't have efficient means to collaborate. And not only on a national level, but across borders, as criminals are building up complex multinational networks and moving money as far away from the original crime as possible. The main challenge currently is regulatory unclarity on what kind of information banks can or cannot share.
All agreed that the only way to beat criminals is to become faster and smarter, and we can do that best by joining forces and collaborating more.
From the RockIT youtube channel also had several questions that due to time constraints were left unanswered. So we tried to answer as many as possible by Salv in here.
This was what we hope will become one of many FinCrime Experts Meetups. As it's clear there is a lot more for the FinCrime community to talk about.
So stay tuned for the next events to come in Vilnius, Riga, London.