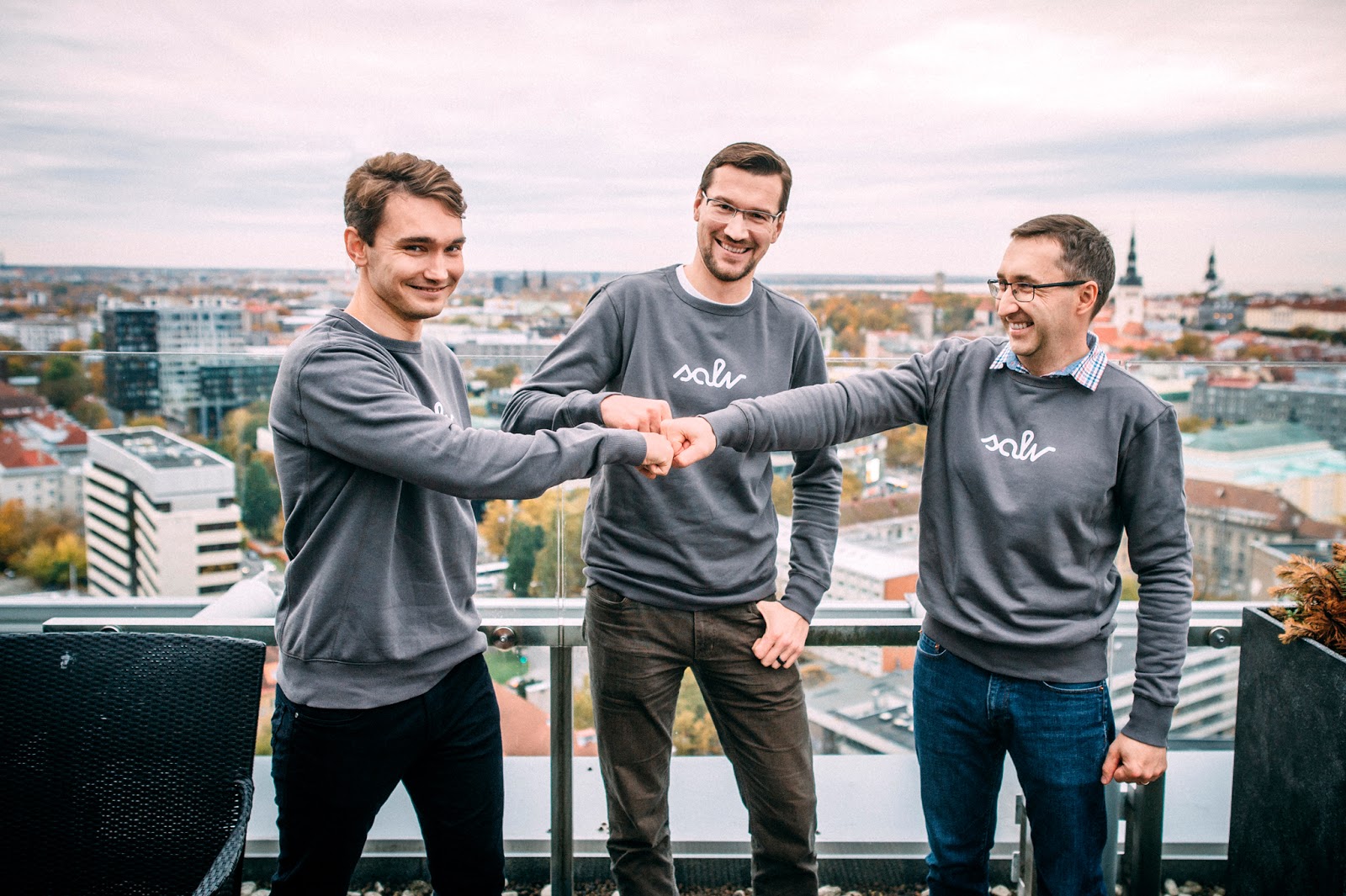 Salv's technology makes a bank 10x more effective in combating money laundering
The founding team includes the former heads of AML, analytics, and verification at TransferWise
Tallinn – 03/12/19 – Salv, the anti-money laundering (AML) startup, announced a $2M seed round today. The round is led by Fly Ventures, along with Passion Capital and Seedcamp. Angel investors joining the round include N26 founder Maximilian Tayenthal, Twilio CTO Ott Kaukver and former CIO for Estonia Taavi Kotka.
Salv was founded by Taavi Tamkivi (CEO), Jeff McClelland (COO) and Sergei Rumjantsev (CTO). Taavi built the AML, Fraud, and Know Your Customer (KYC) teams at TransferWise and Skype. Jeff started his career in ING Bank before leading fraud and other analytics teams at Skype, and setting up the analytics team at TransferWise. Sergei led the engineering team for KYC and Verification at Transferwise.
The founders recognized the growing disconnect between the roughly €84 billion spent per year by the European banking sector, and the slight 1% - 2% of global money-laundering detected. according to the United Nations the estimated amount of money laundered globally is $1 to $2 trillion p.a.
According to Tamkivi, compliance is important, but not enough to defeat crime. "Banks are spending more and more resources on AML but not making real progress. Even if a bank is 100% compliant with regulations, it isn't enough. Money is still laundered, despite increasingly complex regulations and procedures. And the bad guys are always one step ahead. We built Salv to help financial institutions get smarter at detecting crime, without damaging the experience of real customers. Usually money-laundering is connected to serious, large-scale criminal activity from drug trafficking to arms dealing and terrorism. If we can stop money-laundering, we're hitting the criminals where it hurts and we make the world a safer place."
Maximilian Tayenthal, co-founder of N26, said: "For the past ten years, the team at Salv have been at the forefront of anti-money laundering and helped many of the world's leading tech companies to protect their platforms from financial crime. They understand the rapid development of AML inside out and it shows in the simple and effective product."
The crime fighting platform designed by Salv is an intuitive product equipping financial institutions with the tools that make them at least 10x more efficient in the fight against money-laundering. The Salv platform helps banks decrease transaction monitoring and sanctions related false-positive alerts, which means fewer good customers get accidentally caught up in checks and far more crime is detected before it actually happens.
LHV Bank is one of Salv's first clients. Andres Kitter, the Head of LHV UK, said. "As a financial institution we sell trust. We put a lot of resources into fighting crime. The challenge is to get it right without getting in the way of our genuine customers. Salv makes it a lot easier. It gives our team real-time data and allows us to share information with other institutions. It's a massive advantage in identifying possible criminal activity and actually catching more crime."
About Salv
Salv is founded by Taavi Tamkivi and Jeff McClelland,former AML and compliance experts of Skype and TransferWise, and Sergei Rumjantsev, former TransferWise engineer. Sten Tamkivi, the former GM of Skype Estonia is also a co-founder and advisor for Salv. Salv started to develop its core technology at the end of 2018 and is now a 20-strong team based in Tallinn, Estonia.
About LHV
LHV Group is the largest domestic financial group and capital provider in Estonia. The company was founded in 1999, by Rain Lõhmus and Andres Viisemann. LHV presently employs over 400 people. The offices are located in Estonia and the United Kingdom. The banking services of LHV are used by 185,000 clients across the globe.