In today's business world, compliance is a vital part of any company's operations. Fintechs are no exception – with the ever-changing landscape of financial regulations, it can be difficult to keep up with the latest compliance requirements.
Luckily for us, Baptiste Forestier, the chief compliance officer at LinkCy, knows the ins and outs of the fickle fintech industry and the mounting challenges it presently faces.
In his interview, he lets us in on what it means to work in compliance, why you can't exclusively rely on in-house developments, and how Salv is helping LinkCy serve its customers better every day.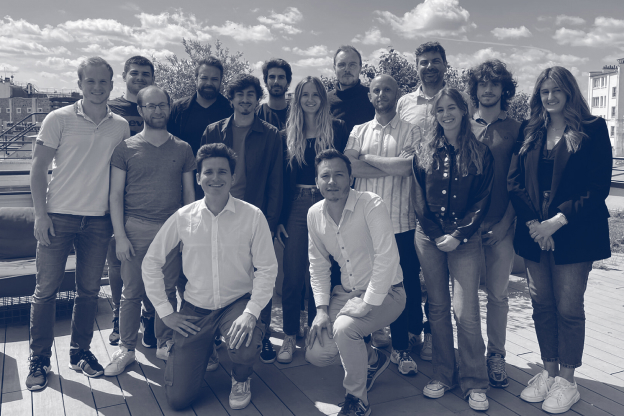 Let's get started. What led you to choose a career in compliance?
I've been interested in science and new technologies for as long as I can remember myself. While finishing my master's degree, I tried to get an internship at a crowdfunding platform. That didn't work out, but I had a chance to connect with many professionals in the industry. That's how I got my first job as a KYC officer at Lemon Way, a marketplace payments specialist. I felt like I belonged there immediately.
You joined LinkCy in January 2022. What does your company do?
Our platform allows companies to quickly and easily integrate banking features into their own products, saving time and money. We handle all the compliance aspects so our customers can focus on their core business. This way, they can launch financial services much faster than before.
Our API is very straightforward to integrate, which makes it ideal for businesses who want to quickly launch a banking product in the UK, Europe, or the US. We aggregate all the services they need and provide a one-stop solution that meets all their requirements. Our customers' end-users can immediately benefit from our banking features (accounts, cards, transfers, etc.).
Thank you, Baptiste! I want to hear more about what you do. What do you focus on as a chief compliance officer at LinkCy?
Part of the job is to make sure that we comply with all the regulations we are subject to, which is critical, because a failure could damage our reputation, or worse, result in the business being shut down.
I'm also very business oriented and make sure that we apply the best fitted requirements to provide our end-users with an optimal experience while keeping risk exposure to the minimum.
What makes up an effective compliance program in your opinion?
It's all about finding the right balance between compliance and business stakes. The right compliance tools can greatly improve your customers' experience without compromising on security.
I think augmented compliance is an excellent term for combining human intuition and experience with the power of the latest technological innovations. It allows compliance officers to be much more efficient in their jobs by not wasting time on low-value tasks and focusing on complex decisions.
The data is also key to making the most of these tools. Therefore, it is essential to always monitor, analyse and leverage it to adapt your policies accordingly.
Finally, it is always important to train all staff members so that everyone has the same level of understanding when it comes to compliance risks and how to prevent them. This way, the whole company can benefit from this knowledge, not just the compliance team.
What are the benefits of third-party AML solutions vs. in-house compliance?
At first, fintech companies could develop things internally because the requirements weren't so clear-cut. But as regulators kept pushing for more, it became too costly and complicated to maintain at some point. They started simple but ended up spending a lot of time just trying to keep up with the latest changes.
We focus on integrating the best-in-class compliance tools, such as Salv, to take advantage of new features that would otherwise take too long to develop.
I'm really curious about one more thing. Why did you choose Salv?
After looking at many different providers, we decided on Salv for several reasons. One of them was the features because few providers have risk scoring, transaction monitoring, and screening within the same platform. So that was one of the critical decision factors. It was one of the things that motivated me to join LinkCy. Because after seeing what Salv could do, I wanted to try it myself.
I found the platform user-friendly and powerful in terms of features and settings options. I'm pleased with the product overall, and I was incredibly impressed with the availability and competence of your onboarding team.
That's great to hear. Which of our products are you using and why?
We are using the full suite of customer screening, transaction monitoring, and client risk scoring tools to automate our onboarding and monitoring flow as much as possible. By doing so, we hope to make these processes more scalable.
Because we empower various partners to create their banking offers, we have to deal with multiple use cases (corporate spend management, salary or health expenses advances, diasporas neo-banking, etc.).
Salv is an excellent choice because it allows us to apply different sets of rules to various partners, depending on their risk type. For example, a client doing business in France will have very different types and amounts of transactions compared to a client setting up a spend management platform for businesses. This flexibility lets us manage risk more effectively.
Salv uses dynamic rules-based transaction monitoring with multiple conditions to identify bad behaviour and minimise risks to your business. Learn how it works.
You just launched a newsletter where you uncover money laundering techniques. What inspired you to create it?
My goal is simply to share my passion for my job and to learn new things at the same time. I admit to being quite fascinated by the ingenuity of some of the money laundering schemes. Over time, I developed a following of engaged readers who enjoyed my content. A friend suggested I start a newsletter or blog, and LinkedIn created a new feature that made it easy to do so with just a few clicks. I'm also thinking of starting a podcast, as I've had some great conversations with deeply interesting people that would make for good 20-30 minute episodes.
---
Overall, it's clear that compliance is a vital part of any business, but it's also important to take advantage of third-party AML solutions to manage risk more effectively. By doing so, fintech companies can focus on developing their core offerings and staying ahead of the curve.
With Salv's help, LinkCy provides best-of-class experience for its customers and their end users. Do you want to know how we do it? Request a demo and see our state-of-art AML compliance platform in action.