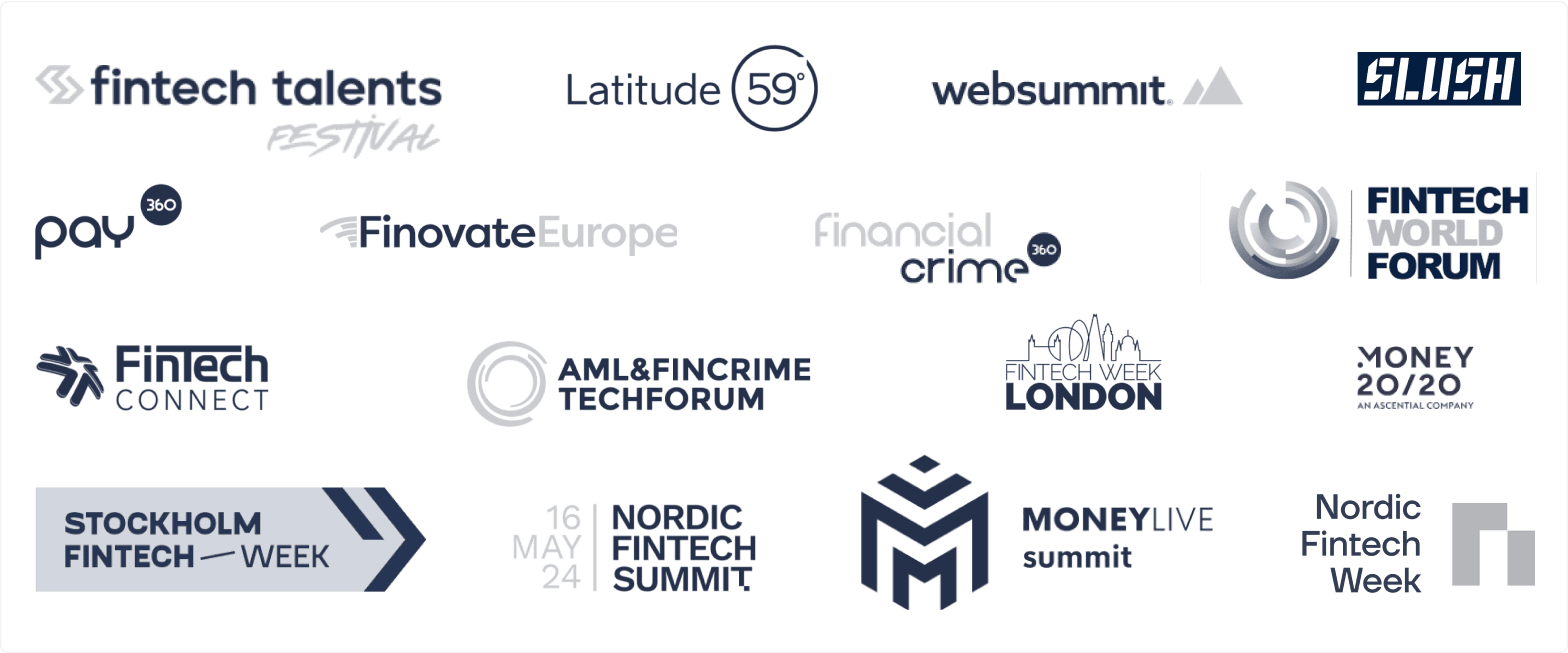 According to KPMG's Pulse of Fintech, in Q1 2023 global fintech funding reached US$52.4 billion, with over 30,000 startups worldwide (the number is growing by the day). In 2024, the global fintech revenue is predicted to reach $197.8 billion, which indicates that amid the present-day challenges, the industry continues to move forward at breakneck speed.
Given the rapid pace of developments, maintaining a current understanding of the trends is imperative. For those looking to keep pace with the rapid changes, there are a series of fintech events and conferences scheduled in Europe in 2023/2024. Here they are, arranged chronologically by date.
List of biggest fintech events and conferences in Europe
Biggest fintech events and conferences in Europe
Fintech Talents Festival
London│13-14 November 2023
Fintech Talents Festival in London connects thousands of representatives of financial institutions, technology buyers, and prominent speakers in discussions around digital transformation, verification, and artificial intelligence, as well as its role in shaping the future of finance. In 2023, there will be specialised stages to explore opportunities in embedded finance and open finance. It may not be the biggest fintech event in Europe, but it's sure to be a must-go with speakers from Morgan Stanley, NatWest, HSBC, and more paving the way for innovation.
There are many more fintech events in November; consider it an appetiser to what follows next…
Web Summit
Lisbon│13-16 November 2023
Web Summit is a global tech conference that originated in Dublin and over the years expanded to multiple locations, from Lisbon to Rio De Janeiro and Doha. Major publications like Politico and the Atlantic called it "the world's premier tech conference" and the place "where the future goes to be born". Though it encompasses more than just fintech, it's one of the major fintech events for those in the industry.
This year's conference will be bigger than ever, with over 70,000 attendees travelling to Lisbon in November. The line-up of over 1,000 speakers includes key figures from the tech and fintech sectors, such as Kuo Zhang of alibaba.com and Olugbenga Agboola of Flutterware, and influential government representatives. Web Summit provides a platform for professionals to network, gain insights into upcoming trends, and establish critical contacts. It's by far the biggest conference for fintechs in Europe.
Financial Crime 360
London│21 November 2023
Financial Crime 360 by the Payments Association (PA) draws a varied mix of banks, regulators, and, of course, fintechs. While its core focus is on financial crime prevention, the event acts as a nexus for collaboration against fraud and money laundering. Although it's not solely a fintech event, it sheds light on trends impacting every regulated entity. For example, the PSR's mandatory reimbursement scheme coming into effect in early 2024, which holds UK financial institutions liable for reimbursing fraud.
Reflecting on the 350+ financial crime experts from last year's event, there's immense anticipation for the forthcoming edition. This year, discussions will revolve around data-driven insights in financial crime prevention, risk frameworks for consumer protection, customer education, and, perhaps the most important topic – keeping up with the ever-changing regulations. This time around, there will be participants from leading fintechs like Revolut, Klarna, and Ripple, and major banks such as  HSBC, Citi, and Barclays. That's just a glimpse.
Salv will also be present, with its innovative tool for real-time payments controls, called Salv Bridge. Designed to intercept and investigate fraud before the victim is able to notice and report it, it achieved fraud recovery rates of up to 80% across large banks, fintechs, and VASPs.
AML and FinCrime Tech Forum
London│5 December 2023
AML & FinCrime Tech Forum is a meticulously curated event that will be equally useful to fintechs, banks, and regulators. Designed for senior leaders navigating areas like onboarding, counter-fraud, AML, KYC, and risk, the forum encourages discussions and collaboration in financial crime prevention.
The forum fits right in on our list of biggest fintech events, because it covers topics that are pertinent to every fintech (and not only): how to protect your customers and your organisation from new and emerging patterns of crime, while passing yearly audits. This year, the forum will focus on leveraging data and the latest strategies in fighting fraud and sanctions evasion.
The speaker lineup features influential figures from the Council of Europe, and compliance leaders from banking giants like Standard Chartered Bank, HSBC, and NatWest Group. Salv remains a recurring participant, bridging fincrime investigation teams across diverse institutions to detect and counteract fraud through Salv Bridge.
Slush
Helsinki│30 November 2023
Slush is not your typical fintech event. The founder-focused event gathers founders and investors from across different sectors of the fast-growing tech industry. In recent years, Slush has grown into a whole week of stage talks, mentoring sessions, and fast-speed networking in Helsinki and around the metropolitan area. The icing on the cake is an unparalleled opportunity to connect with investors and industry executives, and showcase your startup to executive-level decision-makers. In 2019, more than 10,000 pre-booked investor-startup meetings took place at the event, all with the help of its matchmaking tool.
In 2023, there are some interesting speakers on the list – for example, Tony Xu, CEO of Doordash, and Shuo Wang, CRO of Deel. As a bonus, you will learn how to survive winter in Helsinki during the action-packed three days – just look into this comprehensive survival kit.
Fintech Connect
London│6-7 December 2023
Fintech Connect is a conference with annual events in Europe, Asia, and North America. It connects participants of the global fintech ecosystem on topics like digital innovation, payments, blockchain, and last but not least, security and regulatory compliance. Fintech Connect goes beyond the fintech industry, featuring speakers from disruptive merchants like Booking and OnlyFans.
Surajit Barua, VP of Revenue at Financial Times called it a "great place to network and find solutions to building your startup." Speakers from fintechs like Monzo and Kroo and large technology companies like JP Morgan will share their perspective on the upcoming trends and how to navigate your way in the fintech industry. Hurry up and you can be one of over 3,000 attendees that visit the event each year.
Sthlm Fintech Week
Stockholm│12-16 February 2024
Sthlm Fintech Week kicks off our list of fintech events for 2024. It offers a week of keynote and panel discussions, and fireside chats covering everything from machine learning to upcoming regulations and policy initiatives. The fintech event attracts hundreds of world-class experts and decision-makers who indulge in different fintech verticals, connect and collaborate, and inspire. The hallmarks of Sthlm Fintech Week are inclusion and collaboration. This year, participants will get a chance to learn more about much-discussed topics like embedded finance, impact fintech, web3, and many more. If you hurry, you can still grab an early bird ticket.
FinovateEurope
London│27-28 February 2024
This fintech event offers a great potential to build stronger connections within the industry, listen to the perspectives from the diverse crowd of industry influencers, and find your path forward. In 2024, the event will focus on the topics around generative AI and digital transformation, with speakers from major fintechs and financial services groups (imagine Monzo, Revolut, and Stripe all in one room). Branded as Europe's leading fintech conference, FinovateEurope is where you can meet everyone from self-starters to fintech visionaries and expand your professional network.
MoneyLIVE Summit
London│6-7 March 2024
MoneyLIVE Summit is one of the best experiences that money can buy. Designed for senior banking and payments experts, it may not come across as a typical fintech event; however, it's a goldmine for networking with potential partners and clients. The five stages are packed with high-value content – showing you the way through open finance, payments, generative AI that seems to be at the top of everyone's mind these days. This year's event features exclusive take-home insights from CEOs of NatWest, Metro Bank, Atom Bank, Cumberland Building Society, Saffron Building Society. Whether you're a startup or a Fortune 500 company, MoneyLIVE is guaranteed to leave you buzzing with new ideas and new contacts.
PAY360 conference
London│19-20 March 2024
PAY360 by the Payments Association is a premium fintech conference that strikes a perfect balance between engagement and practicality. PAY360 2024 is set to be the most interactive edition to date, with live polling and cutting-edge disruptions at the show floor's "Disruption Theatre". The line-up of over 120 speakers includes ministerial keynotes, fireside chats, and panel discussions on just about every topic, from open banking to payments and regulatory compliance. In partnership with Mastercard, Fintech's Pitch LIVE offers an opportunity to the home-bred UK fintechs who are building their way up, and meet the following criteria: have been incorporated on or after March 2020 and have raised up to £5 million in funding.
Nordic Fintech Summit
Helsinki│16 May 2024
Nordic Fintech Summit is a fintech event driving sustainable growth in finance – in the Nordics and beyond. Held annually in Helsinki, it brings together hundreds of decision-makers in the rapidly growing fintech industry to exchange ideas and showcase cutting-edge innovations. With a focus on financing, payments, and banking technology, Nordic Fintech Summit offers unparalleled insights into the future of finance. You can see how well you balance the demands of the present with future growth by attending thematic talks in the two stages, dedicated to 2024 trends and strategies for growth.
At the Nordic Fintech Summit, you can make valuable connections and (who knows?) increase your fundraising bids, with its own matchmaking and deal flow program. Alas, as I'm writing this, the event has been long over. Be sure to give it a try in 2024.
Latitude59
Tallinn│May 2024
Latitude59 is a flagship fintech event hosted annually in Tallinn, the heart of digital transformation in the Baltics. Although it brings together fewer attendees than other events on our list, it stands out as the largest in the region. The event is equally valuable to startup founders and investors, and anyone else who is passionate about technology and wants to capture the heartbeat of this vibrant ecosystem.
Estonia has long been an advocate for digital transformation, with Kaja Kallas (Estonia's prime minister) launching effective policies to rebrand Estonia as the world's first digital nation. Estonia's e-residency program allows you to conduct your business in Estonia and call it your "digital home" while living somewhere else in the world.
Money20/20 Europe
Amsterdam│4-6 June 2024
Money20/20 Europe is one of the biggest fintech events in Europe. Bold, personal, and visually extravagant, it offers an excellent opportunity to network with fellow professionals and learn about the latest developments in the fintech industry. Just think of that – one in four attendees is either a C-level executive or a board member. With over 3,100 in-person meetings held during the three-day event, we can't help but wonder what this year will bring.
Some of the topics that will be covered in 2024 include data sharing, innovation collaboration, and regulation of advanced technologies. We can't stress it enough – Money20/20 is a must-attend event for everyone in the fintech ecosystem.
UK FinTech Week
London│10-14 June 2024
UK Fintech Week is a well-known fintech event in Europe. With the focus to bolster the UK's fintech leadership, the event attracts founders, investors, and policy-makers. In 2023, it gathered leaders from finance, government, and tech to address challenges and opportunities in the UK's fintech sector. Notable discussions centred on unpredictability of generative AI and advances in financial technology. If you're eyeing the UK fintech market, consider attending next year.
Nordic Fintech Week
Stockholm│September 2024
Nordic Fintech Week is a teenage version of what was formerly known as Copenhagen Fintech Week. Our favourite Danish child is growing up fast: this fintech event attracts 1,200 attendees from the forefront of financial innovation. The era of marauding Vikings is gone. Nordic Fintech Week gives us new heroes who are writing the history of finance right now. In 2023, the best minds in fintech challenged our vision of digital banking, AI-driven automation in the workforce, and the way GenZ are transforming the payments industry. It taught us the importance of balancing policy, finance, and tech.
Salv's CEO, Taavi Tamkivi, also spoke about investigating fraud jointly between banks and fintechs using real-time payment controls. This is best showcased by our flagship product Salv Bridge, which facilitates early detection and resolution of fraud, increasing recovery rates up to 80%. Read Taavi's interview for the Nordic Fintech Magazine. As we anticipate the 2024 edition of Nordic Fintech Week, we can't wait to explore the themes and discussions that will shape the next chapter in the industry.
Fintech World Forum
London│November 2024
The two-day fintech event provides more opportunities for networking in the global financial services, finance, and banking technology industry. Boasting over 20 keynote speakers and panellists from the largest banking institutions and technology companies (Google, Huawei, HSBC, to name just a few), the 2023 event brought many expert perspectives on data sharing, bank and fintech partnerships, and the all-permeating AI and large language models in finance.
Whether you are looking to stay up-to-date with the latest developments in finance and banking or network with like-minded professionals, this fintech event is not to be missed. Last year, the main topics rotated between machine learning and blockchain, and their impact on financial markets transformation. Considering the overarching trajectory of these trends, they are likely to continue in 2024.
---
As the world of technology continues to evolve at a great pace, there are numerous fintech events and conferences taking place all across Europe in 2023/2024. Money2020, Fintech World Forum, Nordic Fintech Week, Latitude59, and Slush are some of the events that offer opportunities to connect, produce, and share your most disruptive ideas.
All of us at Salv love connecting with new people. Our business development wizards are the biggest globe-trotters of all: they just can't sit still when a new promising fintech event is coming up. If you are planning to visit Financial Crime 360, or know of any other great fintech event happening in Europe, talk to us.