If you're here from Part 1: why culture isn't just a buzzword, you're probably hoping to read through the specific steps of how we laid the foundation for our values and what questions and activities got us there. Which is great, because that's exactly what you'll find in Parts 2 and 3 — these posts will be a bit of a timeline of events, and what we practically did.
Let's jump in.
How it began was in Hungary of all places. It was August of 2019 and one of our Salvers, Kristi, was on the National Estonian Women's Volleyball team at the time. They were playing in the European championships in Budapest and, unsurprisingly, Taavi, my co-founder said, "Why don't we do our quarterly offsite in Budapest and cheer Kristi on while we're at it?"
And that was how 18 of us found ourselves packed into a spacious, airy AirBnb in the middle of historic Budapest in August 2019, spending several days helping to really begin to shape our organisation. But we didn't just start — and stop — there. We re-visited these same types of questions in 2020, to continue building a strong foundation upon which our values would eventually rest.
Teamwork has to be cultivated in a remote-friendly company
At Salv, early on, we knew we wanted to be a different kind of company. Taavi, Sergei and I all worked in fast-paced startups and faced our own burnout more than once. We didn't want to repeat this at Salv. So being remote-friendly and offering flexible hours was something we wanted to prioritise. But we knew that wasn't enough — everyone sitting all by themselves at home, or in their sauna, or from their short-term rental flat in Italy, wasn't a way to build a team.
So we did offsites. Not just your typical once-a-year everyone comes to one place to party for two days, but purposeful time set aside for all of us to work together. To meet face-to-face. To have those watercooler chats. To make space for learning about one another beyond our work duties. To hear what we're all doing and remind ourselves why we're doing it together. At first, we scheduled them every other month. Today, we still do them once per quarter.
They're so worth it. With no kids running around, pets to be taken for walks, or daily chores nagging at you from your to-do list, it's a lot easier for all of us to focus on what's important to us at Salv. Our mission. Our relationships with one another. And figuring out how to best move forward — together.
So that's what we did in Budapest.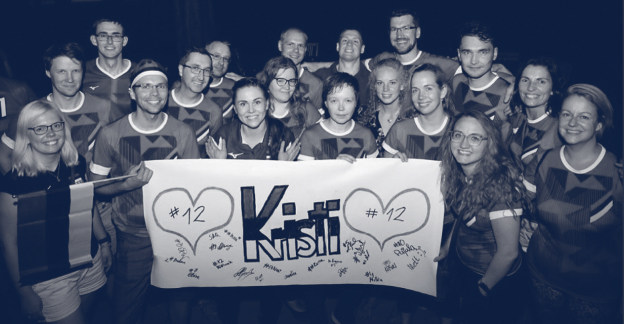 August 2019: How we set the stage in Budapest for forming our future values
In the first year of two of Salv, many of us were ex-Wise — around half at some point. Which is why we wanted to be careful not to create a Wise 2.0, but an entirely distinct identity as an organisation.
So we wanted to answer some important questions while we were away. Who were we? What made us special? What kind of company did we want to work in?
These were the questions that would begin to set the foundation of our future values.
What kind of organisation did we want to work in?
Back in 2019, and still today in Salv, the most important thing to us was that we were on a mission to make the world a better place. We weren't simply satisfied with having a job, we needed a purpose. After came the incredible people we work alongside and working with freedom and flexibility.
Just a few months ago we polled our Salvers (many of whom weren't present at that Budpest offsite) what makes Salv special, and it was still these 3 characteristics that Salvers named as why it was so great to work here. So we really have been building the organisation that we decided we wanted to build 3 years ago.
What kind of organisation did we not want to work in?
Unsurprisingly, back then — and still today — it was most important to us that our work helped, rather than hurt. And from there we wanted to make sure we didn't have unnecessary hierarchies or big egos. That's still true of what we strive for today.
What characteristics describe us?
We asked Salvers what animal Salv would be if it were an animal. The answers were hilarious and were all over the board. I think the one I remember with the most clarity was Kaur's suggestion "Salv is a honey badger, cause honey badgers don't give a f#!=." What he was saying is that we weren't a company driven by comparison or trying to please everyone. We had a mission, and we were going to accomplish it, regardless of the obstacles we encountered.
But, beyond that, everyone explained their animal choices, and it helped us come up with a set of characteristics that really seemed to begin to take shape around who we were.
Approachable, Bold, Kind, Fast, Smart — these are big claims. But I feel, and hope, that they are still as true today as they were back then.
So when does the defining the values part come in?
One very tricky part about defining the values of an organisation is when to finally create them. Three years ago our company was still, technically, called "Dataminer." We'd pivoted from a consultation company to a data mining company to a fraud prevention software company to an AML platform company. We were all over the place.
That was not the time to set our values in stone. But we still needed to, somehow, keep the conversation going until it was time.
Which is why we brought the topic up every few months in 2020 as well.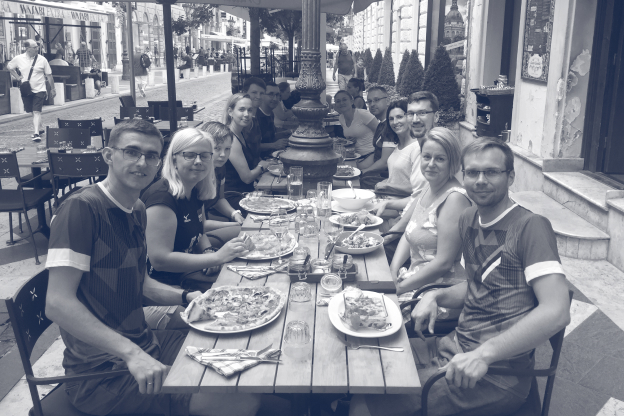 February 2020: What motivates Salvers to work here
We did a series of interviews with Salvers to check in and find out what motivated them to work at Salv, and then divided those answers into themes.
The majority of the comments could be divided into seven areas:
Mission — Making a difference in the world
Work itself is interesting — The people and the challenges helped
Getting things done — Many of us had worked in places before where it felt like we were making no impact, Salv was different
Personal development — A lot of what we were working on was uncharted territory, so growth was constant
Teamspirit — Many Salvers commented they'd never worked with such a great group of people before
Early phase of the startup — A chance to really shape a company and product from the ground up
Our network — We had an incredible group of supportive, hands on investors
May 2020: Writing down our guiding principles
Though we didn't have values set in stone — yet — we wanted to give Salvers an idea of how we worked — a stop gap to help new and old Salvers have a better idea of how to work together.
So we published a blog about our key principles of how we worked at Salv, and how each principle looked in everyday examples.
Start with "Why"
This was our first principle — our precursor to values. The example we mentioned was that we learned from Salver's feedback at our offsite that many Salvers wanted to strengthen their AML knowledge. So Robert invited his friend Henri to join him in creating our Friday Salv AML Academies.
Learn and improve. Constantly.
An example of this second principle was that several Salvers began organising co-reading days, where they took large pieces of AML legislation and read it all together. Afterwards, they summarised their findings for our larger Salv team so we could all have a deeper understanding of the world our customers are operating in daily.
If something isn't working — change it.
For example, despite having a whole lot of meetings, many Salvers were often confused about what others were working on and felt like alignment was missing. Mallory noticed the same problem and created a #daily-updates channel for all Salvers. That helped cut down on many of our meetings and increase our ability to react quickly and align across the company without much effort.
Be fearless — take risks.
A great example of this was there were different views on whether we should put a lot of effort into building a synthetic bank with synthetic customers. Salv's data science gurus decided it was worth trying. So they took the risk, built it, and, nearly a year later, all of Salv sees how beneficial it was.
Have the courage to ask for help.
One way we did this was when we realised B2B sales isn't easy, even for the most experienced companies. So we invited Gerri, one of Salv's investors, to our offsite to help us figure out the best way forward in sales. And, months later, he still continues to mentor us when we need him.
Learn faster through feedback.
One thing many of us learned in our time at Wise. An example of this was, on her own, Kristi took the initiative to send out the form to collect feedback from the entire Salv team on what she can do to improve.
Work from wherever and whenever.
What this looked like was that both Erik and Kairi decided, separately, to follow their dreams to live in a much warmer climate. So he moved to Italy and Kairi and her family moved to Spain for a few months. While both of their dreams were shortened by the onslaught of the pandemic, it doesn't change the fact that remote working is almost always fine at Salv.
---
It's fun to look back at these first guiding principles. They are still often how we work at Salv, years later. And several of them translated directly into our 5 core values we have today.
But it didn't happen overnight. In 2020 we realised that the following year we really needed to focus hard on purposefully shaping and defining ourselves to finally get those values written down.
So that's the next blog — Creating our values, part 3: a year of buildup.
In the meantime, explore our Careers page and see if something catches your eye.