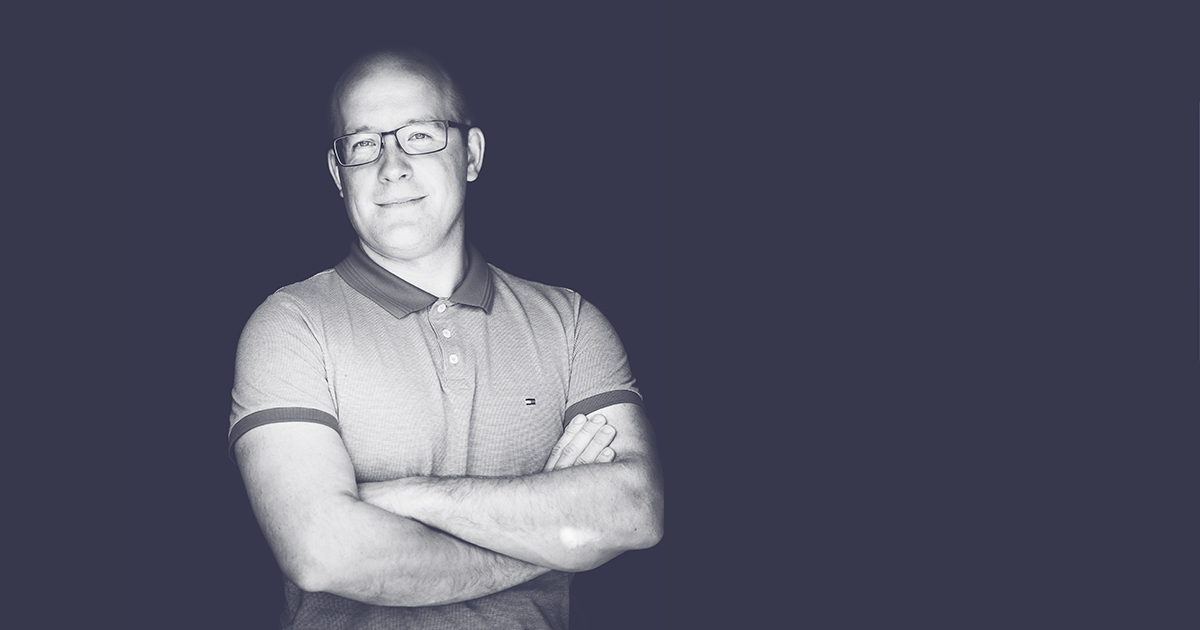 Raido Türk joined our engineering team at the end of March. And, yes, if you're running those numbers, he joined after the lockdown had already been enacted. And, if you already read the post on Tarmo's start at Salv, you'll be pleasantly surprised to learn that onboarding during a pandemic was way better than any of us expected.
But, unlike Tarmo, Raido got the chance to meet the Salv team in late January, while we were all blissfully unaware of the upcoming worldwide pandemic.
We sat down with Raido to ask a few questions about his passions, what led him to join Salv, and what it's really like working here as an engineer.
On a scale of 1-10, (1 being never heard of AML, 10 being expert), what was your anti-money laundering (AML) expertise before you joined Salv?
Embarrassingly, I'd have to say a 2. I mean, before joining Salv I'd definitely heard of money laundering, but I didn't really know much more than that. Honestly, that was one thing that made me feel a little scared to join.
And now, nearly 4 months later, how would you rate yourself on the same scale?
I'd say 5-ish. There are all kinds of things that helped me. Mainly it was experiential learning — having to build the product really gave me needed incentives to dive into AML and really learn. And, because delivering value to the customer is so important to me, I found myself trying to understand things from their angle. But there have also been Salv AML Academies. Every week or so, a Salver arranges to bring in an AML industry expert who teaches all of us about an AML topic. So I've learned a lot, but I know I still have a long way to go.
Tell us about "Raido's career path." How did you end up where you are today?
If I go all the way back, I got my start when I got my first computer in 9th grade. I immediately started coding basic HTML webpages for friends at school. I learned then that I loved programming because I loved problem-solving. So when Webmedia — now Nortal — offered a summer job coding when I was in Uni, I was excited to dive in. Ever since then, I've been an engineer. But, up until Salv, I was always a project engineer, working essentially as a contractor for a client — other companies. I worked first in Webmedia, and then later Iglu. I enjoyed getting to work on such a variety, mostly in the telecom sector, but there were definitely downsides, too.
You mentioned downsides, what didn't you like about project work?
Project was always the client giving us instructions on what to do, and then us following orders. And, though I hate to say it, the client wasn't always the best at figuring out how to build the best customer experience. So sometimes it would fall on us to try to convince them to do something different if the idea was really awful — which they weren't always open to. While I did meet some incredible clients and contacts along the way, there were definitely times when I had to work with in-house engineers that had huge egos. Many had been working on something for 10+ years and felt that their way or their technology was clearly the best. Those times weren't my favorite because it was almost impossible to try to prove that there was a more effective way of doing something.
What made you decide to leave?
After years, I started thinking, "Why am I stressing myself out with these clients trying to build something of value for their customers? The clients don't even want my help. I could contribute so much more elsewhere." To be honest, I stayed in project work for far too long — almost 15 years!! — because I loved my team. The people around me at Iglu were incredible, so it was hard to leave them. I really loved that team spirit. But there comes a time when you can't always put everyone else ahead of yourself. It was time I forced myself out of my comfort zone and tried something new — product work.
There are a million places out there that offer product work, why did you choose Salv?
Kairi, honestly. She's the head of People & Operations here. I'd worked with her before and knew she wouldn't just work for any company. She's done a masterful job at building up incredibly healthy work cultures in a number of businesses now. So when she told me Salv was hiring, I thought it wouldn't hurt to just do the interview with Sergei — Salv's CTO — and then get back to my normal life. But then I had lunch with Sergei, met a few other Salvers, did more research and, well, it turns out it was a great fit for both Salv and myself. The rest is history.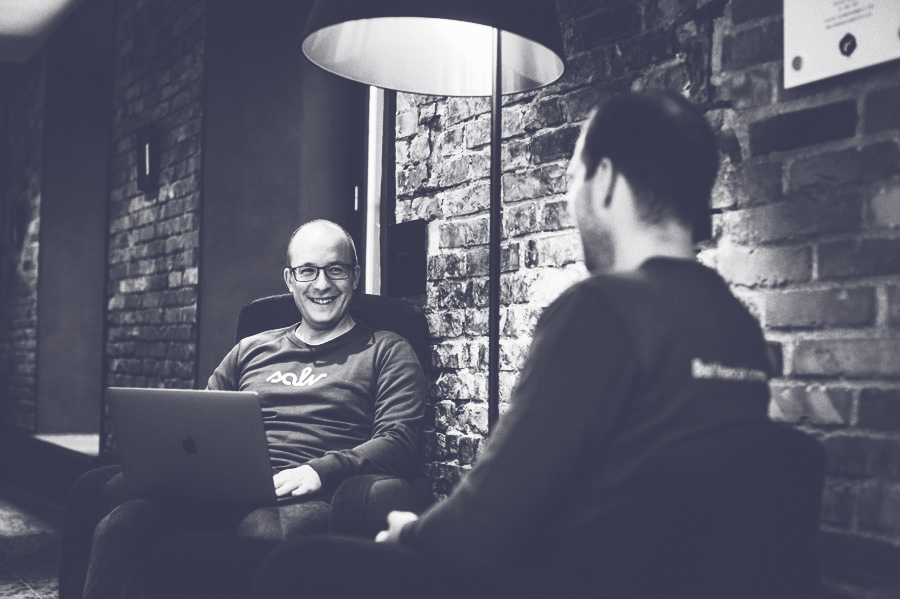 I'm assuming product work in Salv is different than your previous project experience?
It really is. When you do product work, you build something and you own it. You make the decisions. You decide how to prioritize. You set the pace. You figure out how your work will affect the customer. It's really refreshing.
Of course, not all customers are perfect in product work, but it feels so much better to be in control of our destiny. We decide how to build it, how to develop it, and then we put together a road map. We can make the decisions about how we can affect the business in the best way possible.
Now that the state emergency has ended, have you transitioned to working from the Tartu office?
Funny enough, one of my biggest worries choosing to work at Salv was that I'd be all alone. When I agreed to join, I was the only engineer in Tartu at the time — but now there are 3 of us. Because I loved my team so much at Iglu, I wanted to feel like I was a part of a team, so I was especially worried that I'd feel isolated.
But, actually, now I'm really grateful I onboarded virtually during the pandemic. The fact that all of us were working remotely made us bond more because we were all in the same boat. It opened opportunities for me to meet other Salvers, especially outside the engineering team in other locales, that I might not normally have.
Interestingly enough, last Wednesday was my first visit to the Delta office in Tartu. It turns out that I got into such a good rhythm working from home during the pandemic that I got comfortable. My daughter is only 1.5 years old, so she can't open doors yet. So I can easily put on my noise-cancelling headphones, shut the door, and then get stuff done. And if my partner needs help, it feels good to know that I'm a room away. We've all figured out how to communicate virtually in a really great way. And, if we really need to meet up in person, it's do-able.
What do you like about engineering?
That's easy. I can split it into two main reasons.
First, I love problem-solving. Like solving really really tough problems. The kind of problems where you beat your head against the wall for months and then, suddenly, you find a solution. That adrenaline rush that follows is so addictive. I love that.
Second, I love making customers happy. I mean, yes, I love making cool things, but it's also important to me that what I make solves an actual customer problem. Building a customer the thing they need — even if they didn't know they needed it yet — is vital to me.
Sounds like you've come to the right place. So, are you full-stack, backend, or front end?
Well, technically I'm fullstack, but let's just say I don't have a natural, inner painter. At Iglu there was a saying that something was a "Raido design" — let's just say that wasn't a compliment. At some point in my career when technology was changing so fast I had to make a choice, dive in deep with front end or focus on backend. Considering my natural skill level for designing customer interfaces, I chose to specialize more in backend.
For you, what's a normal day in Salv like?
I start my morning with a Caffe Latte from my kitchen, go through my emails and Slack notifications, and usually by the time the caffeine kicks in, we'll have our daily engineering standup. We do those each day but the length varies. Overall, it helps us to keep in sync as we discuss our priorities of the day as well as some other relevant topics.
Lately, we've also decided to divide different products among smaller teams of people, so each of us has their own kind of specialization. For example, I'm mostly working on transaction monitoring. That involves a lot of performance tuning to provide the best experience for our customers when they write risk transaction rules. We want them to be run as fast as possible to detect any suspicious transactions.
When it's my time to keep an eye on our environments — since we're so small we also double as DevOps to monitor the wellbeing of our infrastructure — then I also often monitor different AWS dashboards and Slack channels regarding our platform's performance state. But, really, as an early-stage startup, no day is the same. Positive chaos at its best. :)
How would you characterize Salv?
I'm a creature of habit, so I'm surprised I'm saying this, but Salv feels so comfortable — like I've worked here, and with these people, for years. Granted, I have worked with a few of them before, but overall it's just a comfortable place with really down-to-earth people who are incredibly mission-driven, regardless of their roles.
Also, even though Salv is the first startup I've worked in, I love that most people in Salv are on their second or third journey building a unicorn. Which means most are in their 30s, have families of their own, and have figured out a way to give their best without burning themselves out. But even though most people have been doing this stuff for awhile, they're open to new ideas and learning from their mistakes. Refreshingly, there's no room for finger-pointing at Salv. Instead, we analyze what's working, what's not, and what we can do better next time.
So if Salv was a soup, what would it be?
Umm… wow. Maybe seljanka? Because, like many of the Salvers, it's been around awhile but you can always be surprised by a new twist.
Any suggestions for engineers thinking about joining Salv?
I think be ready for some positive chaos. You can make a lot of decisions in Salv, but that also means taking on a ton of responsibility, which is not something everyone likes. We have some clear product goals we want to achieve, but how to get there is very much upon you to figure out. Of course, other Salvers will support you on the way, but no one's giving you a task list to follow. Also, it's important that you be ready to put yourself in the customer's shoes. Salv engineers have very close cooperation with our customers because it's up to us to figure the best solutions for them.
Last question. What's something most people wouldn't know about you?
I really love cycling, both road, and mountain biking — although the latter is impossible in Estonia. But every year as soon as the snow melts, I hop on my bike. One of my favorite memories is from last year's Tartu Rattamaraton. It started raining, and then kept raining all day long. Add on to the fact that it was 9 degrees outside, and I felt like a champ for finishing it. In fact, nearly a fifth of the cyclists dropped out before it even started. I'm so glad I did it.
Oh, also, I've never been to Finland. No, I'm not joking. But, who knows, now that borders are open again and longer holidays abroad are out of the question for awhile, maybe a family trip to Finland is in my future.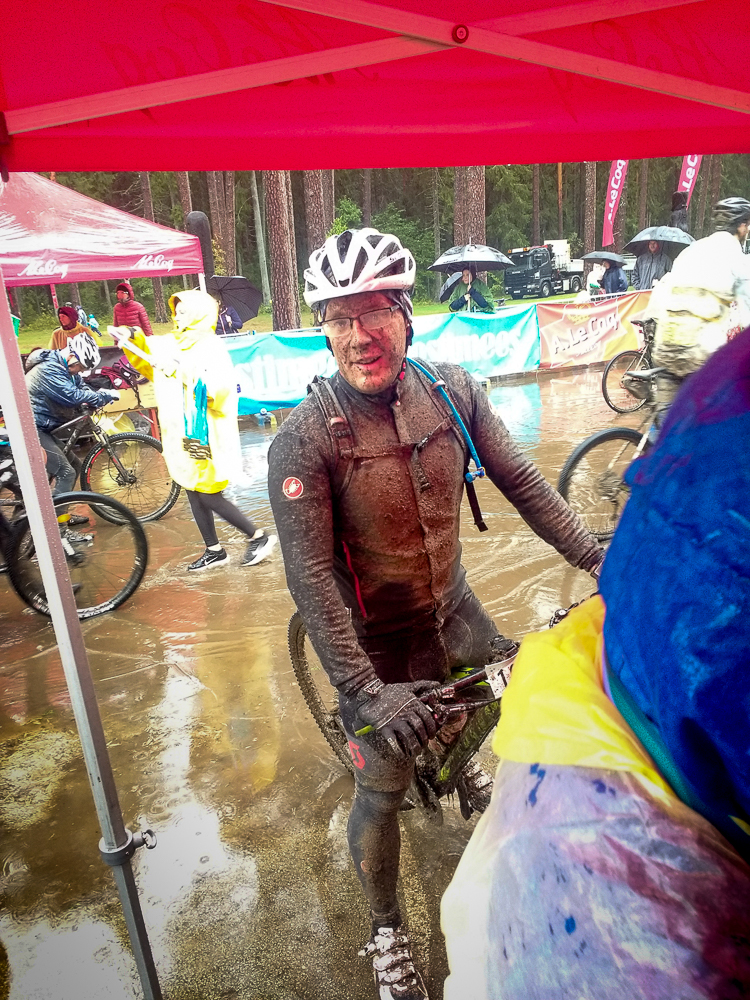 That's me after finishing the race. One of the hardest things I've ever done.