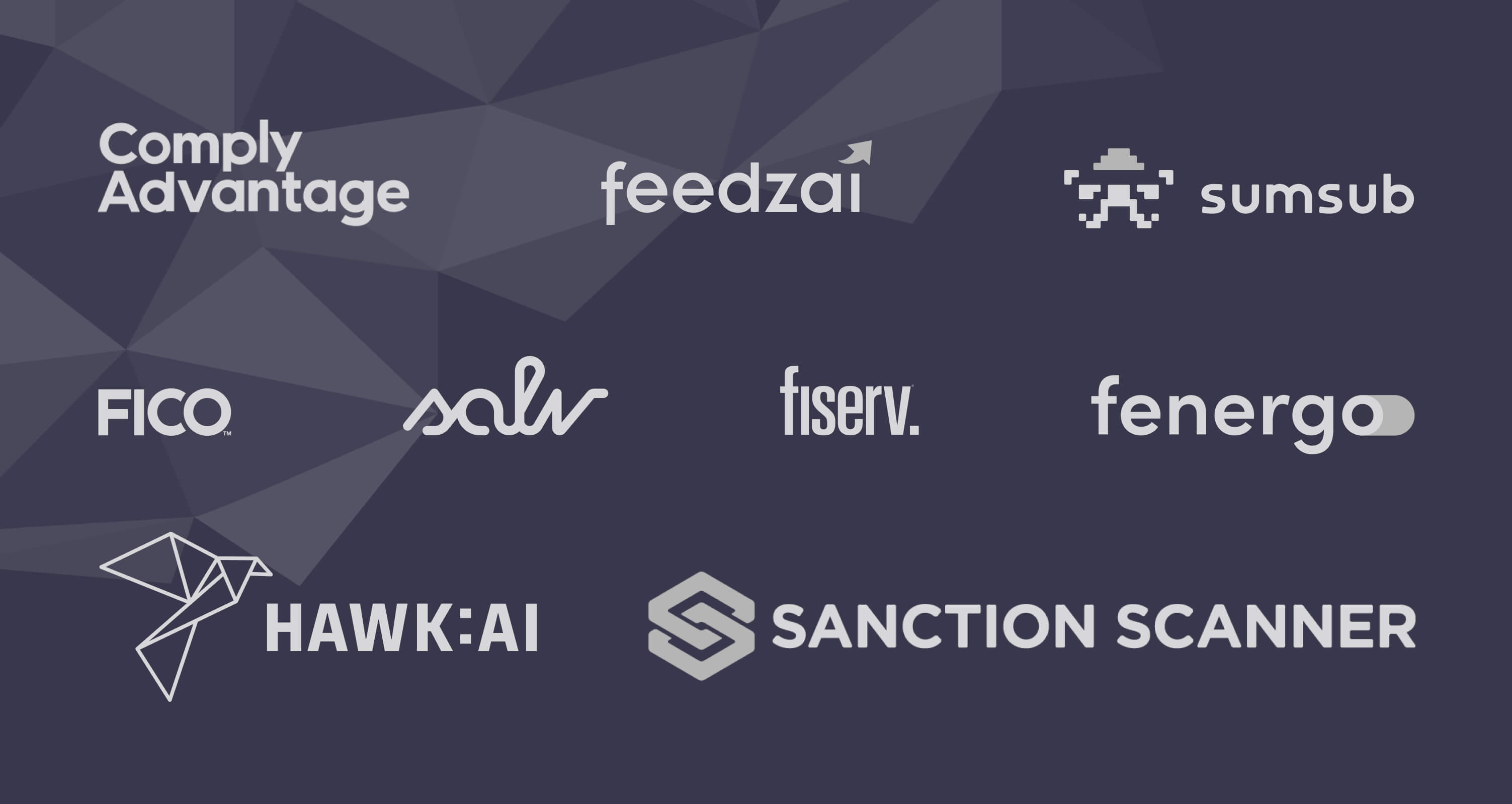 Complying with anti-money laundering regulations can be a complex and time-consuming process. However, there are a number of software solutions that can help you take your compliance to a new level. In this article, we will introduce some of the best AML software to make your life easier this year.
List of AML software solutions 2023/2024
What is AML software?
AML software is designed to help companies detect and prevent financial crime, and comply with the latest AML regulations. With AML software, you can carry out regular automated checks on customers and transactions, monitor customer behaviour, and keep track of changes in account activity. AML software generates reports that can be used to support compliance efforts.
Top features of AML software
AML software includes multiple features. By focusing on customer and transaction monitoring, sanctions screening, and risk assessment, you can detect suspicious activity and take appropriate measures early on.
Customer and transaction monitoring helps companies identify and investigate potential money laundering and fraud both in real time and post-transaction.
With customer and transaction screening, companies can screen customer names against lists of sanctioned individuals and entities, including PEPs, RCAs, and adverse media lists.
Risk assessment and risk classification help you identify higher risk customers from the start, hence minimising risks to your company.
When choosing AML software, it's important to consider your company's specific needs and requirements. Below you will find my list of the best AML software that can save you time, money, and resources in 2023/2024.
This research is based on publicly available data including online user reviews. It reflects our individual opinions and aims to provide general information on the existing AML software solutions. This is not a ranking: all solutions are presented in a randomised order.
The 15 best AML software solutions
It's often said that charity begins at home, so let us start with Salv.
Salv
Salv delivers AML software for banks and fintechs, taking them beyond traditional approaches in compliance. With annual fincrime detection rates of mere 1-2%, Salv is working hard to raise the bar in financial crime prevention and show criminals the way out. Salv's AML software solutions combine a best-in-class sanctions screening, dynamic customer risk assessment, and an industry-leading monitoring offering person, transaction, and even counterparty monitoring. Salv bridge pioneers collaborative fincrime investigations, bringing financial institutions together to address and mitigate fraud.
One cool thing about Salv: Salv developed and successfully launched the world's first cross-border fincrime intelligence sharing platform, Salv Bridge. Based on an unprecedented concept, Salv Bridge is a secure, encrypted channel between fincrime investigation teams across multiple institutions allowing them to collaborate and resolve fraud that would otherwise have gone undetected. Adopted by the leading banks in the Nordics, including Swedbank and SEB, the platform has spread its reach across the EU and is gaining recognition in the UK.
Sanction Scanner
Sanction Scanner is an established financial crime fighter and AML software provider operating in the regulatory technology (RegTech) space. Sanction Scanner's customer & transaction screening, monitoring, and adverse media screening tools allow companies to identify high-risk customers and transactions, and eliminate compliance risks at the start of a customer journey.
One cool thing about Sanction Scanner: Their AML software solutions support AML compliance teams and processes with their global comprehensive AML data, including PEP and adverse media data. Real-time, AI-enhanced data adds additional protection against error risks.
ComplyAdvantage
AML software developed by ComplyAdvantage helps companies detect and counteract risks associated with AML/CFT. ComplyAdvantage relies on machine learning (ML) and artificial intelligence (AI) for customer screening, monitoring, and transaction risk management. It combines corporate and risk screening into one platform, and ensures that you keep up with the latest regulatory requirements.
ComplyAdvantage's AML software solutions can be easily integrated into your product via APIs, allowing you to automate with ease. With AML API, you can improve alert quality and financial crime risk management processes.
One cool thing about ComplyAdvantage: ComplyLaunch allows free access to compliance tools that early-stage startups badly need. The offer includes name screening checks and API-based risk monitoring.
NICE Actimize
Nice Actimize is redefining the standards for AML software solutions. The company stands as a beacon of financial crime risk management, and for a good reason: Nice Actimize utilises adaptable, connected, and contextual technologies that go beyond mere detection.  Its entity-centric AML solutions are deeply infused with AI and machine learning. The platform not only enhances efficacy and accuracy but also ensures comprehensive AML compliance coverage and complete auditability.
One cool thing about Nice Actimize: Nice Actimize's cloud-powered X-Sight platform transcends conventional financial crime risk management by addressing complex demands for flexibility and extensibility. As such, it helps businesses to optimise cost management and scale operations.
Feedzai
Feedzai is a global risk management platform and AML software provider that uses end-to-end risk monitoring and risk-based data to improve your company's fraud defences. Feedzai's machine learning algorithms enhance customer screening, detect and counteract fraud at an early stage. They ensure your AML processes are transparent and compliant, and provide reliable data for analysts and for regulators alike.
One cool thing about Feedzai: After the acquisition of Revelock, a biometric fraud prevention platform, Feedzai is on the track to create a major network of financial intelligence with over a trillion data points, sessions and customer profiles. The network will be built upon Feedzai's AML software that prioritises third-generation machine cognition and rule-based AI models.
Lucinity
Lucinity merges storytelling with generative AI to redefine financial crime investigations. The innovative platform goes beyond mere data presentation; it contextualises customer information and weaves it into engaging narratives with the help of its AI-powered co-pilot Luci. Lucinity's clients can dive deep into customers accounts, analyse transactional behaviour, and mitigate risks all the way benefiting from its purpose-built workflow management.
One cool thing about Lucinity: Lucinity's AML transaction monitoring makes it shine amongst the mighty competition. In fact, it's not just about monitoring; it's about achieving comprehensive coverage with adaptable, behaviour-based risk screening, and fostering crystal-clear decision-making backed by explainable AI. Lucinity's AML transaction monitoring can be tailored precisely to an organisation's risk strategy.
Napier
Napier is an end-to-end intelligent compliance platform that performs transaction and client screening, transaction monitoring using the very latest AI & ML technology. Napier's AI-enhanced solutions reduce both false positives and false negatives with the speed and accuracy that your company needs. Their enhanced risk assessment tool reduces risks for financial institutions by identifying at-risk customers early on in the onboarding process. AML software solutions provided by Napier are one of a kind.
One cool thing about Napier: Through their partnership with Refinitiv, a global provider of financial market data, Napier integrates machine learning with comprehensive risk intelligence data to ensure compliance with all regulatory requirements. The combination of advanced AML software and powerful data distinguishes Napier and Refinitiv in the industry.
Sumsub
Sumsub's transformative products are designed for both user and business verification, and AML transaction monitoring. Sumsub is tailored to deliver multilayered protection and ward off synthetic fraud, identity theft, and document forgery. Sumsub's verification platform offers flexible user verification, PoA checks, and even AML screening, allowing businesses to verify global users in a record time of under 30 seconds while ensuring round-the-clock compliance. Sumsub's products and solutions can be tailored to businesses within the fintech, trading, crypto, and online gaming industry.
One cool thing about Sumsub: AML transaction monitoring software is where Sumsub really stands out in its ability to paint a complete, detailed picture of your customers' risk profiles. Sumsub's platform is meticulously crafted to track the entire user journey, from the initial sign-up to the final transaction. Sumsub ensures that signs of fraud are pinpointed in real-time, and does so with its data-driven methodologies.
UNIT21
Unit21's AML software solutions include customer onboarding, transaction monitoring, and customisable case management. The platform's operating engine integrates custom workflows and automation, and blends KYC/KYB data with other data sources for seamless user onboarding.
One cool thing about Unit21: Unit21 stands out with its focus on data monitoring, which spans beyond traditional AML transaction monitoring. Unit21 claims to have achieved reduction in both false positives and fraud, thanks to the platform's advanced transaction flagging, entity monitoring, and link-analysis tools. Businesses report a reduction in false-positive rates by 85% due to Unit21's enhanced data monitoring.
Fenergo
Fenergo is redefining what it means to excel in the AML software space. The SaaS-based platform covers every phase of the client lifecycle, empowering financial institutions to digitise and automate the entire client onboarding journey. More than just that, Fenergo focuses on continuous risk monitoring and compliance with KYC regulations. Fenergo's long-standing commitment to operational efficiency ensures a solid return on investment for its users.
One cool thing about Fenergo: Fenergo's transaction monitoring is built around a real-time detection engine, supported by pre-packaged data models and advanced analytics capabilities. Financial institutions can make informed decisions with unparalleled accuracy, and really "think outside the box" in terms of conventional AML transaction monitoring. It's worth pointing out that in 2022 Fenergo completed acquisition of Sentinels, a provider of AML transaction monitoring, who we covered in the previous version of this article.
HAWK:AI
HAWK:AI developed AML software that helps detect and investigate a money laundering. As the name suggests, their solutions are built on machine learning & AI technology. HAWK:AI delivers payment screening, transaction monitoring, customer screening and risk rating solutions to retail banking and payment companies, as well as neobanks.
One cool thing about HAWK:AI: Their transaction monitoring combines a traditional rules-based approach with artificial intelligence (AI) and behavioural analytics. HAWK:AI's proprietary technology dives into customer behaviour data to find anomalous patterns in customer transactions.
FICO
FICO is an analytics software company that uses algorithms to analyse and predict consumer behaviour, and optimise decision-making. Their AML software solutions use advanced machine learning and powerful data insights to prevent fraud, and give you a 360º view of a customer. FICO uses industry-proven AI models to minimise identity fraud, payments fraud, guard you against money laundering risks and ensure compliance.
One cool thing about FICO: FICO Falcon Intelligence Network is a comprehensive database of fraud and non-fraud payments data, enhanced with ML & AI technology. The data is thoroughly researched and condensed into 100 fraud-specific patents that can help you analyse your company's fraud model and improve your crime-fighting performance.
Fiserv
Fiserv provides financial services to a variety of customers, among them banks, credit unions, and finance companies. Their Risk & Compliance programme includes card risk and cybersecurity solutions, as well as extensive financial crime risk management to get you ahead of constantly evolving criminal technology. Fiserv's AML software solutions give you a strategic view of integrated risk management and keeps your company on the growth track.
One cool thing about Fiserv: Their machine learning models enable predictive analytics-based risk management, safeguarding you against money laundering, fraud, and financial crime risks.
SEON
SEON offers a vast array of AML solutions, but it shines brightest when it comes to fraud prevention. SEON's platform is designed to uncover sophisticated fraud patterns and in doing so paves the way to untapped revenue opportunities. While SEON specialises in multiple fraud prevention mechanisms, it can also be helpful through onboarding, transaction monitoring, and AML compliance checks. The platform's mantra is simplicity combined with depth: you will have all data in one place, and there will be no place for fraudsters.
One cool thing about SEON: The platform is reinforced by machine learning algorithms that can pinpoint risk patterns automatically. Anything else that can sieve through that defence will be caught with custom monitoring rules. Not only businesses can catch suspicious transactions that way, they can also create and test new monitoring rules against recent transaction data.
Ondato
Ondato is a full-cycle compliance platform that covers a full spectrum of AML/KYC activities. Ondato provides you with tools to streamline customer onboarding and due diligence processes, giving you the tools to think outside the box and future-proofing your compliance and your business.
One cool thing about Ondato: Their perpetual KYC offers a holistic approach to regulatory compliance, allowing you to keep a close watch on your customers during the full customer journey.
How to choose best AML software
When choosing AML software, it's important to keep in mind a few things. The software should be easy to use and implement, it should be scalable and flexible, and come with a responsive tech support team. The right software will be designed with a clear focus on AML compliance. With the right AML software, you can move beyond maintaining compliance and really fight financial crime.
Some tips for choosing AML software:
AML software should offer a range of features to meet your AML compliance obligations.
AML software should be simple to use for anyone on your compliance team. It shouldn't require engineering skills.
Support is essential for AML software, so choose a provider that offers ongoing support.
---
The market for AML software is on the rise, and new companies are popping up like mushrooms after a rain. As you can imagine, there are more great AML software solutions, one of which, no doubt, will be ideal for your company.
If you want to know more about how Salv's AML software can improve your AML compliance processes, automate tedious, repetitive tasks, and decrease the number of false positives, explore our product pages or book a demo call with one of our sales colleagues.