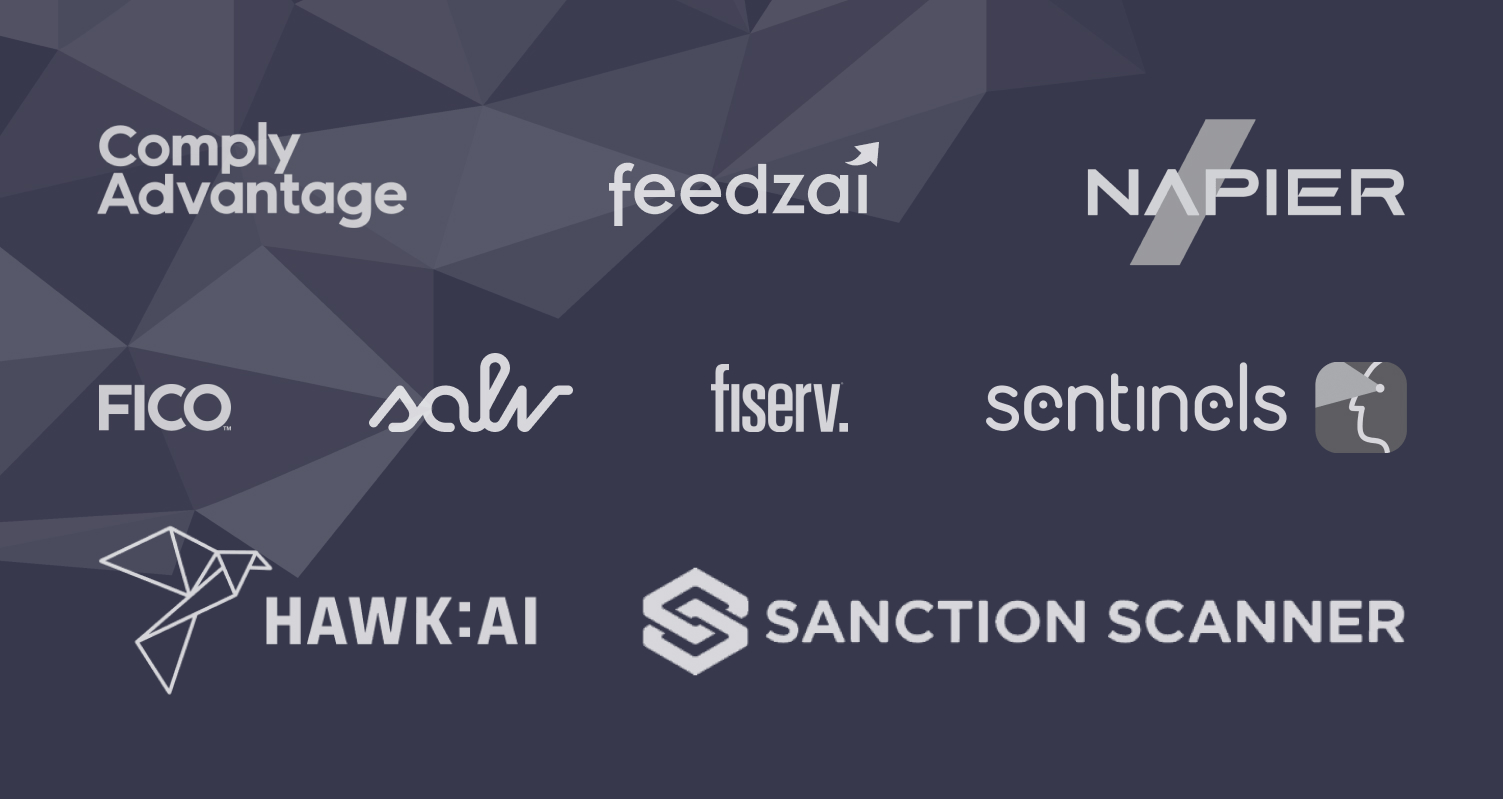 Complying with anti-money laundering and combating the financing of terrorism (AML/CFT) regulations can be a complex and time-consuming process. However, there are a number of software solutions that can help you streamline your compliance efforts. We selected some of the best AML software to make your life easier this year:
Salv – Financial Crime Prevention, AML & Sanctions Compliance
Sanction Scanner – Comprehensive AML Data
Napier – AI for Financial Crime Compliance
Sentinels – AML Transaction Monitoring
ComplyAdvantage – AI-Driven Financial Crime Risk Detection
Feedzai – Financial Crime Risk Management
HAWK:AI – AI-Based AML Surveillance
FICO – AI-Powered AML Solutions
Fiserv – AML Risk Manager
Ondato – AML & KYC compliance platform
Before we get started, let's cover the basics.
What is AML software?
AML software is designed to help companies detect and prevent financial crime, and comply with the latest AML regulations. With AML software, you can carry out regular automated checks on customers and transactions, monitor customer behaviour, and keep track of changes in account activity. AML software generates reports that can be used to support compliance efforts.
Top features of AML software
AML software includes multiple features. By focusing on customer and transaction monitoring, sanctions screening, and risk assessment, you can detect suspicious activity and take appropriate measures early on.
Customer and transaction monitoring helps companies identify and investigate potential money laundering and fraud both in real time and post-transaction.
With customer and transaction screening, companies can screen customer names against lists of sanctioned individuals and entities, including PEPs, RCAs, and adverse media lists.
Risk assessment and risk classification help you identify higher risk customers from the start, hence minimising risks to your company.
When choosing AML software, it's important to consider your company's specific needs and requirements. Below you will find my list of the best AML software that can save you time, money, and resources.
Disclaimer: this research is based on publicly available data including online user reviews. It reflects our individual opinions and aims to provide general information on the existing AML software solutions. This is not a ranking: all solutions are presented in a randomised order.
Best AML software
It's often said that charity begins at home, so let us start with Salv.
Salv
Salv is a RegTech startup that delivers AML software for banks and fintechs, taking them beyond traditional approaches in compliance. Only 1-2% of global financial crime is detected worldwide. Salv is working hard to raise the bar in financial crime prevention and increase those numbers. Our all-in-one AML Platform takes your customer and transaction screening, monitoring, KYC & risk assessment one step further with real-time checks and easily configurable rules. Salv's AML software solutions combine a best-in-class sanctions screening, dynamic customer risk assessment, and an industry-leading monitoring product offering person, transaction, and even counterparty monitoring.

One cool thing about Salv: Salv developed and successfully piloted the world's first cross-border fincrime intelligence sharing platform, AML Bridge. Fincrime intelligence sharing is a new milestone in the AML software landscape. Based on an unprecedented concept, AML Bridge builds a secure, encrypted channel that allows for near-instant exchange of financial crime data between the participants. Adopted by Estonia's largest banks, such as LHV, Swedbank, SEB, and Luminor, the platform is gaining recognition in and outside of Estonia.
Sanction Scanner
Sanction Scanner is an established financial crime fighter and AML software provider operating in the regulatory technology (RegTech) space. Sanction Scanner's customer & transaction screening, monitoring, and adverse media screening tools allow companies to identify high-risk customers and transactions, and eliminate compliance risks at the start of a customer journey.

One cool thing about Sanction Scanner: Their AML software solutions support AML compliance teams and processes with their global comprehensive AML data, including PEP and adverse media data. Real-time, AI-enhanced data adds additional protection against error risks.
Napier
Napier is an end-to-end intelligent compliance platform that performs transaction and client screening, transaction monitoring using the very latest AI & ML technology. Napier's AI-enhanced solutions reduce both false positives and false negatives with the speed and accuracy that your company needs. Their enhanced risk assessment tool reduces risks for financial institutions by identifying at-risk customers early on in the onboarding process. AML software solutions provided by Napier are one of a kind.

One cool thing about Napier: Through their partnership with Refinitiv, a global provider of financial market data, Napier integrates machine learning with comprehensive risk intelligence data to ensure compliance with all regulatory requirements. The marriage of advanced AML software and powerful data makes Napier and Refinitiv an unbeatable duo.
Sentinels
Sentinels takes AML software to a whole new level. Sentinels is a modular platform that employs granular rules and machine learning models to analyse your customers' behaviour and generate recommended next steps. Their risk-based transaction monitoring allows you to configure rules based on the risk level, detect anomalous patterns and behaviour, and use this data to build up comprehensive customer profiles. With Sentinels technology, you can generate more accurate alerts and reduce the pressure on your risk and compliance teams.

One cool thing about Sentinels: They use AI to scan the regulatory space and update your compliance teams with new changes. Equipped with the latest machine learning technology, AML software developed by Sentinels can process vast amounts of data, analyse problematic patterns, and reduce the number of false positives.
ComplyAdvantage
AML software developed by ComplyAdvantage helps companies detect and counteract risks associated with AML/CFT. ComplyAdvantage relies on machine learning (ML) and artificial intelligence (AI) for customer screening, monitoring, and transaction risk management. It combines corporate and risk screening into one platform, and ensures that you keep up with the latest regulatory requirements.
ComplyAdvantage's AML software solutions can be easily integrated into your product via APIs, allowing you to automate with ease. With AML API, you can improve alert quality and financial crime risk management processes.

One cool thing about ComplyAdvantage: ComplyLaunch allows free access to compliance tools that early-stage startups badly need. The offer includes name screening checks and API-based risk monitoring.
Feedzai
Feedzai is a global risk management platform and AML software provider that uses end-to-end risk monitoring and risk-based data to improve your company's fraud defences. Feedzai's machine learning algorithms enhance customer screening, detect and counteract fraud at an early stage. They ensure your AML processes are transparent and compliant, and provide reliable data for analysts and for regulators alike.

One cool thing about Feedzai: After the acquisition of Revelock, a biometric fraud prevention platform, Feedzai is on the track to create a major network of financial intelligence with over a trillion data points, sessions and customer profiles. The network will be built upon Feedzai's AML software that prioritises third-generation machine cognition and rule-based AI models.
HAWK:AI
HAWK:AI developed AML software that helps detect and investigate a money laundering. As the name suggests, their solutions are built on machine learning & AI technology. HAWK:AI delivers payment screening, transaction monitoring, customer screening and risk rating solutions to retail banking and payment companies, as well as neobanks.

One cool thing about HAWK:AI: Their transaction monitoring combines a traditional rules-based approach with artificial intelligence (AI) and behavioural analytics. HAWK:AI's proprietary technology dives into customer behaviour data to find anomalous patterns in customer transactions.
FICO
FICO is an analytics software company that uses algorithms to analyse and predict consumer behaviour, and optimise decision-making. Their AML software solutions use advanced machine learning and powerful data insights to prevent fraud, and give you a 360º view of a customer. FICO uses industry-proven AI models to minimise identity fraud, payments fraud, guard you against money laundering risks and ensure compliance.

One cool thing about FICO: FICO Falcon Intelligence Network is a comprehensive database of fraud and non-fraud payments data, enhanced with ML & AI technology. The data is thoroughly researched and condensed into 100 fraud-specific patents that can help you analyse your company's fraud model and improve your crime-fighting performance.
Fiserv
Fiserv provides financial services to a variety of customers, among them banks, credit unions, and finance companies. Their Risk & Compliance programme includes card risk and cybersecurity solutions, as well as extensive financial crime risk management to get you ahead of constantly evolving criminal technology. Fiserv's AML software solutions give you a strategic view of integrated risk management and keeps your company on the growth track.

One cool thing about Fiserv: Their machine learning models enable predictive analytics-based risk management, safeguarding you against money laundering, fraud, and financial crime risks.
Ondato
Ondato is a full-cycle compliance platform that covers a full spectrum of AML/KYC activities. Ondato provides you with tools to streamline customer onboarding and due diligence processes, giving you the tools to think outside the box and future-proofing your compliance and your business.
One cool thing about Ondato: Their perpetual KYC offers a holistic approach to regulatory compliance, allowing you to keep a close watch on your customers during the full customer journey.
How to choose best AML software
When choosing AML software, it's important to keep in mind a few things. The software should be easy to use and implement, it should be scalable and flexible, and come with a responsive tech support team. The right software will be designed with a clear focus on AML compliance. With the right AML software, you can move beyond maintaining compliance and really fight financial crime.
Some tips for choosing AML software:
AML software should offer a range of features to meet your AML compliance obligations.
AML software should be simple to use for anyone on your compliance team. It shouldn't require engineering skills.
Support is essential for AML software, so choose a provider that offers ongoing support.
---
The market for AML software is on the rise, and new companies are popping up like mushrooms after a rain. As you can imagine, there are more great AML software solutions, one of which, no doubt, will be ideal for your company.
If you want to know how AML software can improve your AML compliance processes, automate tedious, repetitive tasks, and decrease the number of false positives, get in touch and see Salv's AML Platform & AML Bridge in action.