The international sanctions landscape is constantly evolving, making it a challenge for organisations to keep up with the latest regulations and avoid costly mistakes. In the ever-changing environment, sanctions screening has become an essential part of compliance across many industry sectors.
With sanctions screening, you can ensure that your existing or potential customers are not present in any of the sanctions lists. The purpose of this guide is to introduce you to the challenges in sanctions screening and provide you with practical tools and strategies to overcome them.
What is sanctions screening?
Definition of sanctions screening
Sanctions screening is a control used to identify and mitigate sanctions exposure and related risk factors. Companies use sanctions screening to detect and weed out sanctioned persons and entities, and protect themselves from the legal consequences of sanctions evasion. Sanctions screening can help you to identify areas of potential sanctions concern and guide you in making educated decisions.
Sanctions, sanctions lists, and sanctioning bodies
Sanctions are penalties imposed on a country, government officials, companies, and private citizens, as a retaliation for violating international commitments. Sanctions seek to force a change in political behaviour through a series of restrictive measures, such as asset freezes, trade sanctions, travel restrictions, capital and export controls, and embargoes. Sanctions are an important part of the fight against financial crime. Sanctions are temporary by nature and can be lifted once a sanctioned entity complies with all international laws and regulations, achieving a desired political effect.

A sanctions list is a record of individual sanctions applied to individuals, countries, and legal entities responsible for certain violations, including war crimes, terrorism, terrorist financing, drug trafficking, and proliferation of weapons of mass destruction. Sanctions lists essentially are the instructions for regulated institutions that have a legal obligation to comply with sanctions screening requirements.

Sanctioning bodies include sovereign governments, government agencies, and international organisations, such as the UN Security Council, US Office of Foreign Assets Control (OFAC), HM Treasury, and the European Union. You should know that although the sanctioning bodies try to coordinate their strategy, their sanctions lists don't always align.
You can stay away from trouble by keeping yourself up-to-date with the latest sanctions and implementing sanctions screening controls.
Who needs sanctions screening and why?
Common sanctions risks to organisations
For most regulated institutions, compliance with sanctions is a major pain point. It creates a tense, high-stakes environment, where every decision you make can have a potentially devastating effect on your business and operations. Without a system in place for customer and transaction screening, you put your company at greater risk of fines and other penalties.
Failure to comply with the sanctions can negatively affect your relationship with your customers, partners, and regulators, which is a serious concern, especially if you want to stay in the same industry. In 2020, HSBC's share price plummeted due to the allegations of money laundering, which resulted in a fine of £63.9m by the UK's financial regulator.
But fines are not the only danger to your business. If you are found to be knowingly breaking rules, you risk eroding trust, damaging your organisation's reputation and credibility, and losing customers in the long run.
Sanctions compliance is not about checking boxes, targets, and numbers. You should make sure that your customers are screened on a regular basis to maintain compliance in the ever-changing sanctions landscape.
Advanced technology solutions can help you to make your sanctions compliance process simpler and smarter.
Organisations and industry sectors at risk
The need for sanctions screening extends beyond regulated institutions. By law, all businesses in all sectors have to comply with all relevant international sanctions. Traditionally, the stakes were higher for businesses operating in the financial services space, but that's no longer the case, as regulators have started focusing on other industries as well. But it's not just sanctions violations that can spell trouble for your business. Failure to have a high-performing sanctions screening system in place can be as damaging to your business as the sanctions breaches themselves.
Why is sanctions screening important?
Current challenges in sanctions screening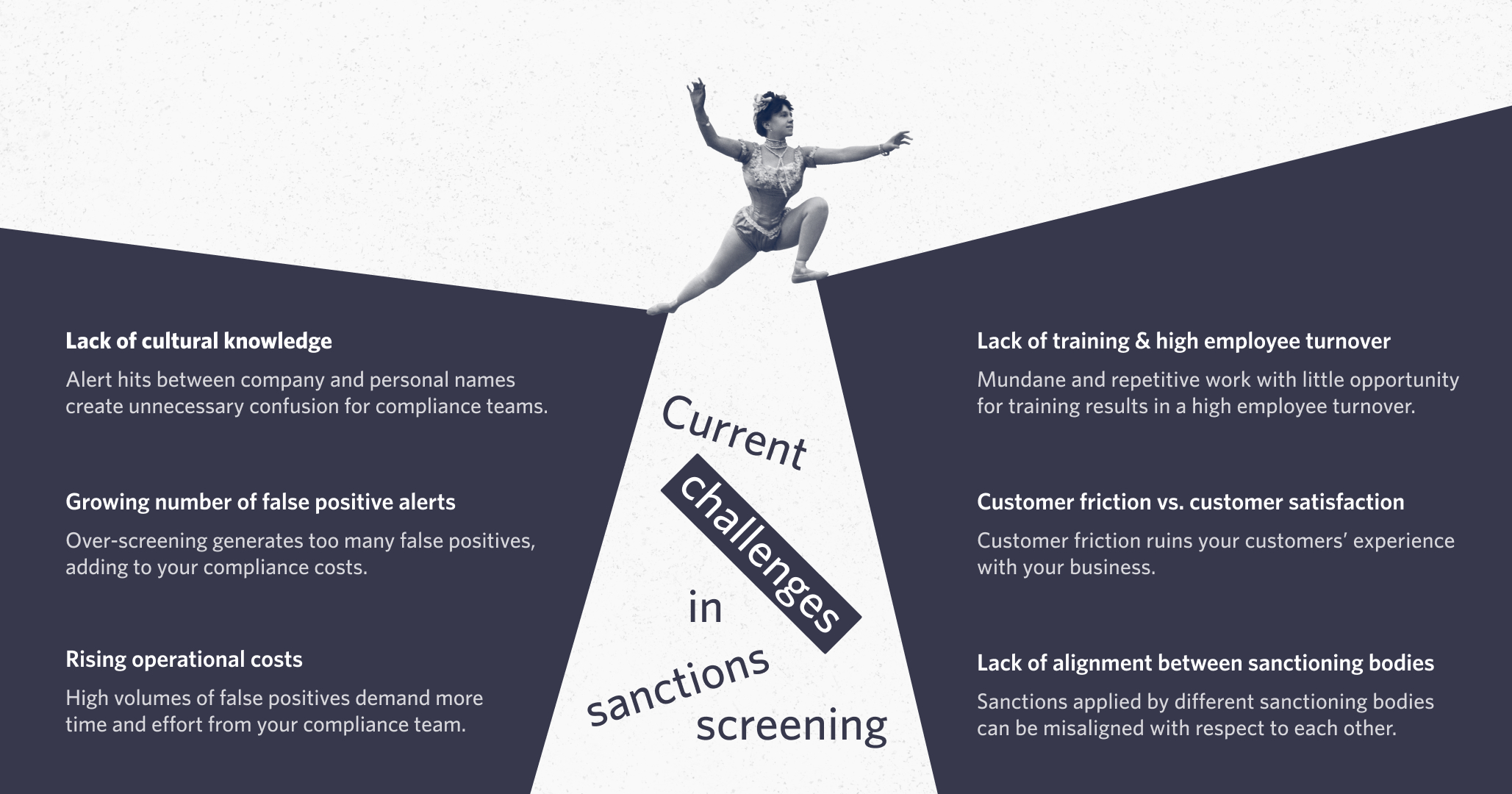 Every year and every day we make more transactions, which means more sanction checks and more operational pressure on compliance teams. The inability to cope with the growing workload can lead to total loss of control and undermine your best efforts to stay compliant with the latest sanctions.
The challenges in sanctions screening come from how often sanctions lists are updated and how soon compliance teams can adapt to the changes. It's important to remember that while the public sector introduces new sanctions, the private sector alone bears the burden of implementing them, making sure that all the screening checks are in place.
Your team must have access to the latest data, and make decisions quickly. But there are more challenges that can turn your sanctions screening programme into a living nightmare.
Lack of cultural knowledge. In Estonia, alert hits between Estonian and Arabic names (Anu Tali vs. Abu Talib) are very common. Transliteration can be a big issue. Alert hits between company and personal names can create unnecessary confusion for compliance teams, unless your compliance agents are equipped with the knowledge, awareness, and understanding of different linguistic contexts.
Without a good cultural knowledge, your compliance team will struggle to properly review and investigate screening alerts. The same goes for your sanctions screening system. You must put a great deal of effort into training the model and improving the connections between the names and the screening logic. The language training is based on semantics, it takes time to get things right, so you should be prepared for a long slog.
Lack of training & high employee turnover. Compliance agents struggle with mundane and repetitive tasks, which are only set to increase as the new sanctions create more workload and operational pressure. This results in a highly volatile work environment, where employee retention and productivity can become a real problem.
You have to make sure that everyone plays as a team, for your team and with your team. Your compliance agents must undergo a rigorous training process, adapt to new technology, and develop competence.
Avoid falling into the trap of growing your compliance team to the point where you don't have time and budget to properly screen and manage your new hires.
Rising operational costs. You need to have a clear understanding of who you want to screen and why. Over-screening creates higher operational costs, adding more burden and demanding more time and effort from your compliance team. Every sanction check increases the costs for the end users, which, in turn, creates more friction.
Growing number of false positive alerts. You may think that screening your entire customer base will give you a higher degree of confidence in the results. But, quite the opposite, over-screening can generate too many false positive alerts that will need to be reviewed separately to confirm they are not sanctioned.
Nowadays, many, if not most, of your false positives can be resolved automatically using sanctions screening software. You can read more about that below.
Customer friction vs. customer satisfaction. Customer friction is what ruins your customers' experience with your business and takes away your opportunity to make a positive and lasting impact on your customers. Sometimes customer friction is something that just happens. But we know what can make it much, much worse:
✔️ Suspending your good customers' transactions for sanction checks.
✔️ Leaving your customers in the dark about what's going on.
✔️ Breaking hearts, not delivering on promises, missing the deadlines.

As a result, you generate a lot of frustration and get some bad reviews (which would definitely take you off Santa's nice list). With every bad review, you have to work harder. If you want your business to grow, you should prioritise your customers' safety and convenience, and create a seamless customer experience.
Lack of alignment between sanctioning bodies. To get the best results from sanctions screening, you have to use every tool at your disposal. It's important to exhibit extra caution and cross-check the sanctions lists, because, in some cases, the sanctions applied by different sanctioning bodies can be misaligned with respect to each other, the public discourse, and the public's expectations. One strong example of this is the divergence between OFAC and the EU in relation to Iranian sanctions.
Impacts of sanctions screening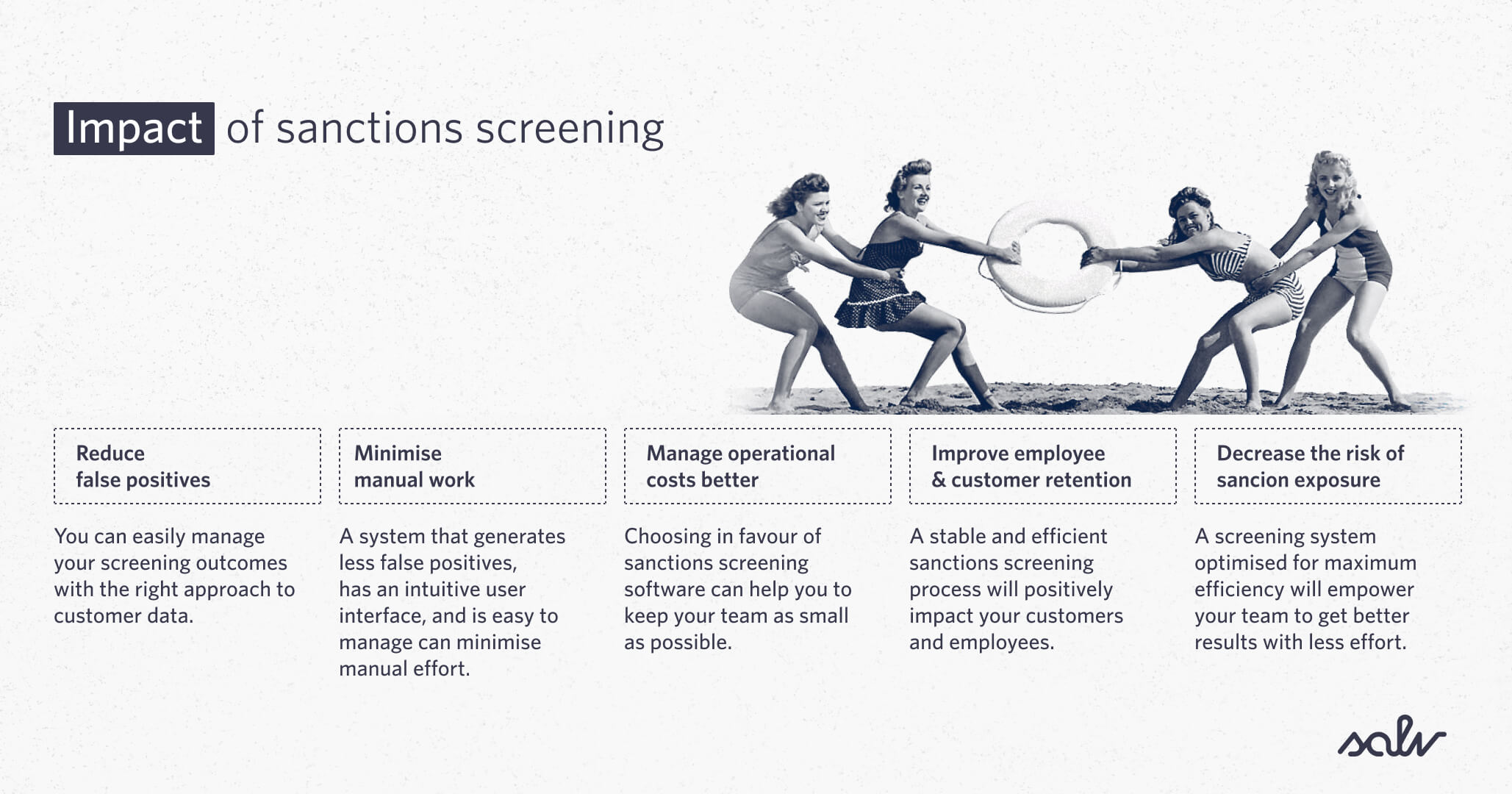 With the right approach to sanctions screening, you can ensure that your business is conducted soundly and properly, in compliance with the latest sanctions, and reduce the danger of sanctions breaches. An effective sanctions screening system is cost-effective and easy to manage. It helps you to reduce the friction for your customers by giving them a convenient and safe experience.
You can do much more with sanctions screening, though.
Reduce false positives. Incorrect, duplicate, or incomplete data in sanctions screening can generate a large number of false positive alerts. The best way to manage your screening outcomes is to understand and structure your customer data.
There is, however, a way to achieve greater efficiency by automatically resolving obvious false positives in your screening process. We'll say more about that below.
Minimise manual workload. Growing workload is one of the biggest concerns for everyone in the compliance industry right now. You may think that the easiest way to tackle this is to grow your compliance team until the point it matches the workload.
A system that generates less false positives, has an intuitive interface, and is easy to manage can minimise manual effort and support your team to make a more meaningful impact.
Manage operational costs better. High workload translates into higher costs for your business. Choosing in favour of sanctions screening software rather than relying on in-house resources can help you to keep your team as small as possible, while taking care of most, if not all, of your sanctions screening needs.
Improve employee & customer retention. Your compliance agents don't want to work on mundane, repetitive tasks. Ensuring a stable and efficient sanctions screening process will not only have a direct effect on your customers, but also on your employees, their productivity and efficiency at work.
A sanctions screening system optimised for maximum efficiency will free up your compliance team to focus on more meaningful, higher-level tasks.
Decrease the risk of sanctions exposure. Although sanctions lists are available in public access databases, things are not as simple as they seem. Just like when you get a prescription from your doctor, you need someone else's help to decipher and make sense of what it says. If you don't have enough domain knowledge, you may not be aware of the pitfalls that might happen down the road. There are nearly 100 jurisdictions that have imposed sanctions to date, so keeping abreast of what's happening is a Herculean task.
How does sanctions screening work?
Components of sanctions screening
There are two major ways to do sanctions screening: name screening and reference screening.
Name screening incorporates screening against sanctions lists. As the name suggests, it allows you to check individuals, businesses, and counterparties against global sanctions lists.

Reference screening is another screening strategy that allows you to look for potential matches in banking payment reference texts.
Reference screening requires more work: the system automatically checks and verifies every element in the reference, and if there is more than one mention of the same name, the screening results in multiple matches.
Sanctions screening process
Many think that sanctions screening is a simple and straightforward process. It's not like quantum physics or anything like that, but the logic behind it requires your sanctions screening system to be consistent and complete. At the end of the day, it's not just about name matching.
At the start, you want to understand if the person or entity you are dealing with is on any of the sanctions lists. You want to make things quickly and efficiently, and that's where technology comes in.
Sanctions screening software removes the headache of manually having to search for similar records across many sanctions lists.
Let's say, you found a name match and it confirmed your suspicion. It's too early to say that the person in question is who you think they are. There is a second step that goes beyond simply finding a match. To make sure you are dealing with the same person, you have to compare the date of birth, nationality, citizenship, residence, and tax residence, among many other things.
Based on this data, you can draw some conclusions and make a decision with a high degree of certainty.
How does sanctions screening work at Salv?
How to set up an effective sanctions screening process with Salv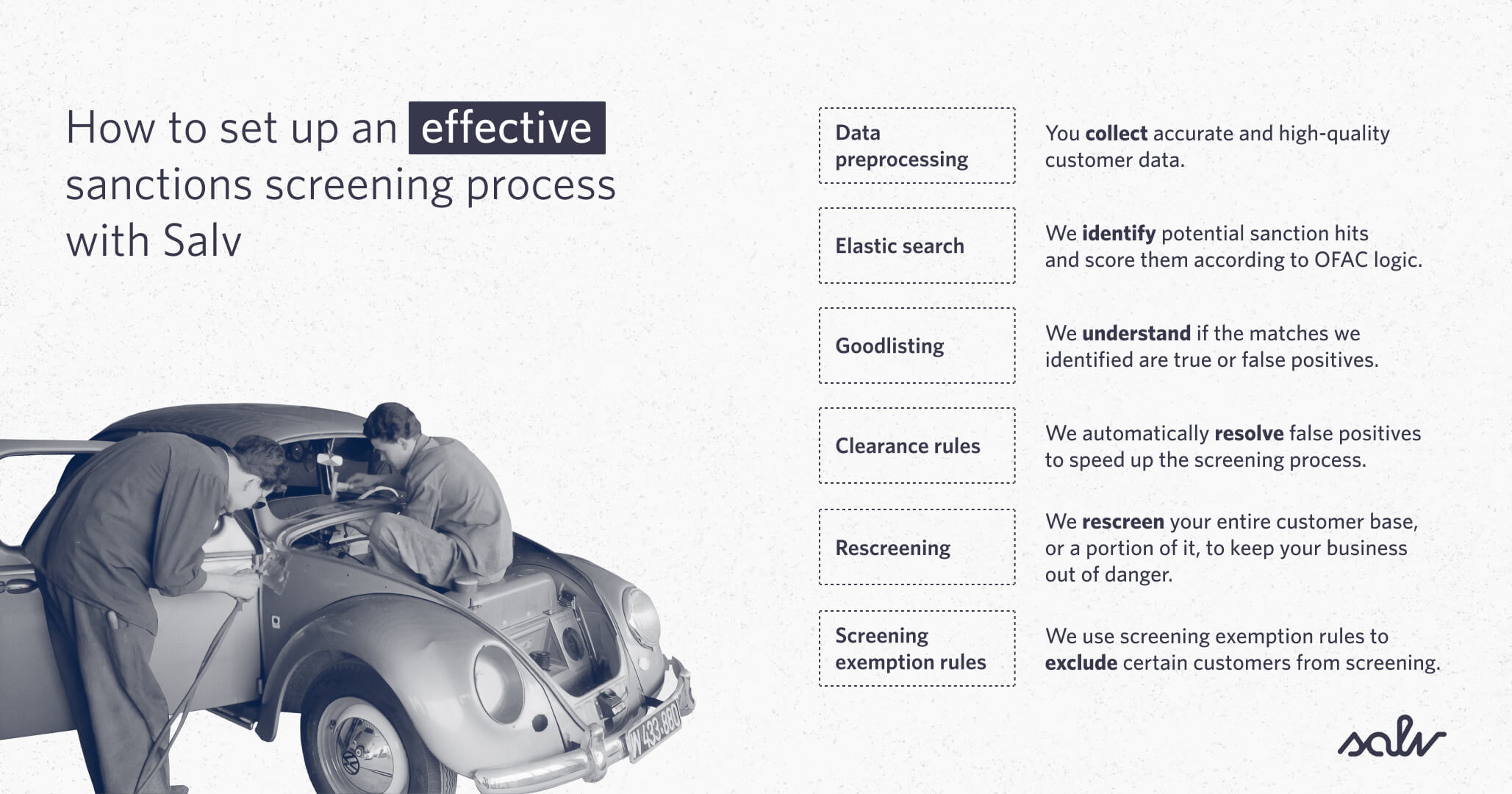 We kickstart the process with data pre-processing. In order for sanctions screening to work as intended, you should collect and hand over accurate and high-quality customer data. Depending on your organisation's needs and preferences, we can process and screen reference and transactional data.
Pre-processing. During the pre-processing step, the data is converted to the same standardised format: lower case Latin script. Then we remove the redundant data that comes as part of the payment scheme. After this initial step is done, it's time for Elasticsearch.

Elasticsearch. This is a technology that allows us to quickly search for name matches across all sanctions lists. With Elasticsearch, we can identify potential sanction hits and score them according to OFAC logic. It's like looking up names in a phone book. The best way to narrow down screening results is by enabling fuzzy matching. Fuzzy matching allows us to identify all non-exact meaningful matches that can contain sanctioned persons or entities. We generally use a fuzzy score from 0 to 100: a meaningful match is assigned a score between 95 and 100.

Goodlisting. This step comes when we want to understand if the matches we identified are true or false positives. It's an additional step that allows us to exclude the incorrectly labelled persons from screening, which means that you will not get a new alert for the same person again, when exactly the same data fields are matched.

Clearance rules. If goodlisting wasn't enough and we are still getting matches, it's time for screening clearance rules. At Salv, clearance rules are used to automatically resolve obvious false positives and make the job of compliance teams easier. Our library contains dozens of pre-defined clearance rules for person and transaction reference screening, transaction counterparty name screening, and transaction counterparty bank name or BIC code screening. You can change clearance rules or add new ones, and test them on historical data as an additional safety measure. The whole process is clear, transparent, and fully auditable.

Rescreening. With the increasing speed and unpredictability of new sanctions regimes, it's important to be able to immediately identify and remove sanctioned subjects from your customer base. We do that with the help of rescreening. Rescreening is an additional step that helps us to make sure your business is not associated with any sanctioned persons or entities. We rescreen your entire customer base, or a portion of it, every morning, so you can sleep better and wake up when you want.

Screening exemption rules. You probably don't want to rescreen all of your customers every day. That's not a problem. You can minimise your compliance budget by setting up screening exemption rules. During the integration stage, you can test different configurations on historical data and choose the one that best works for you.
What makes Salv different from other sanctions screening providers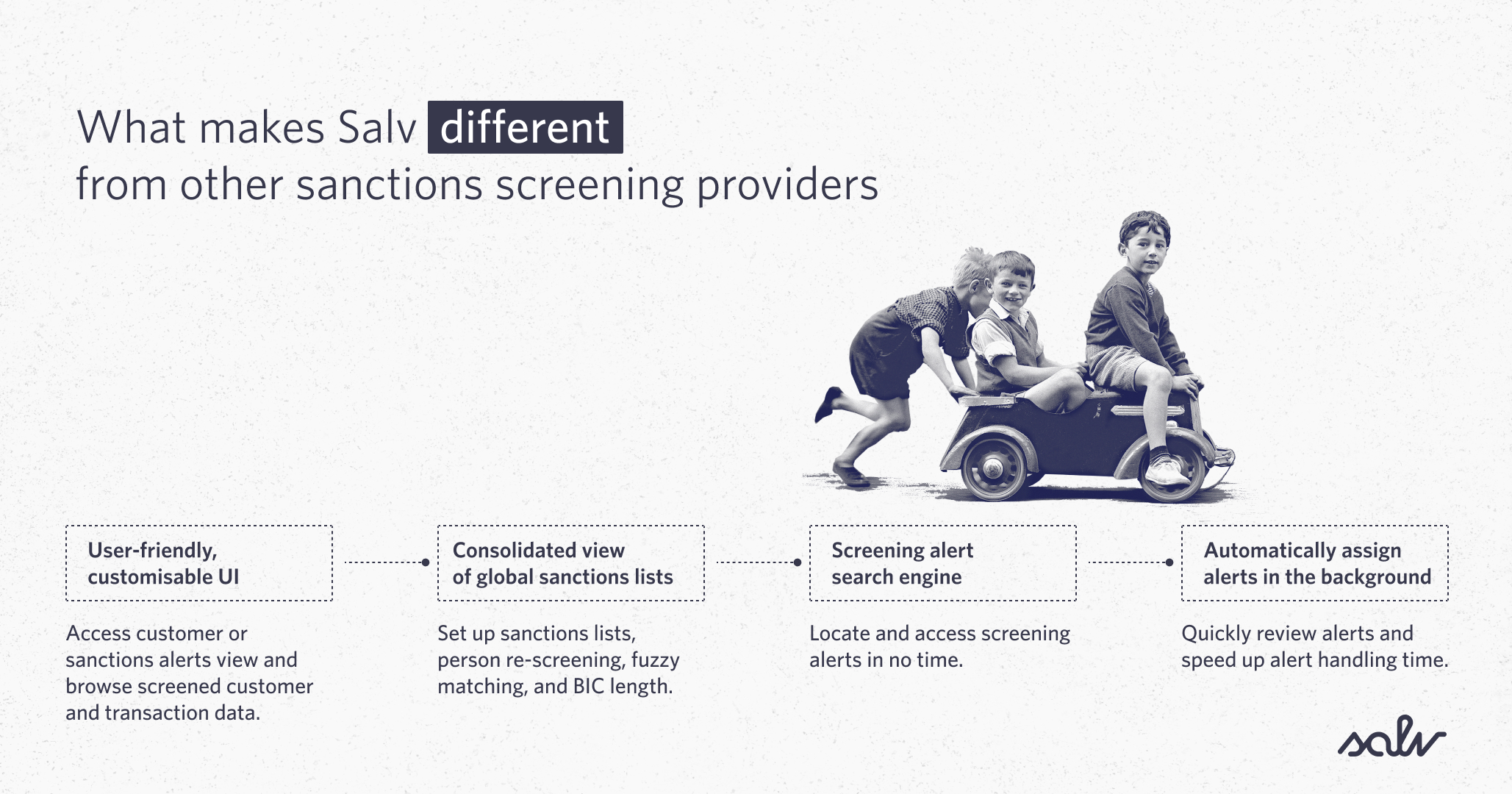 User-friendly, customisable UI. Our easily customisable UI has several viewing options: you can either use customer view or sanctions alerts view, so you can conveniently access and browse customer and transaction data we have screened. According to our screening logic, one transaction can generate multiple alerts. Alerts, in turn, can have multiple matches as well. With Salv, you can locate all alerts quickly on one page, often using one view alone. Just like on Tinder, you can swipe left or right, giving your perfect matches a chance to be investigated and reported in the proper way.

Consolidated view of global sanctions lists. You can set up and configure the screening process any way you want. Our highly configurable UI offers a consolidated view of global sanctions lists and allows you to set up sanctions lists, person re-screening, fuzzy matching, and BIC length without the hassle of waiting to hear from your provider. All the sanctions lists in our system are configurable and can be switched on and off as desired, depending on your organisation's jurisdiction and governing bodies. To give a few more examples, you can add or remove sanctions lists, check and uncheck screening parameters, tune prefixes, and play around with fuzzy thresholds for different screenings.

Screening alert search engine. To relieve operational burden and make screening search lightning-fast, our product engineer Tarmo developed the screening alert search engine that changes everything. The screening alert search engine works almost like a real-time search: it simplifies the process of locating and accessing screening alerts and frees up compliance agents to spend more time on investigating rather than reviewing.

We speed up alert handling time by automatically assigning alerts in the background. This way, available agents can quickly review the alerts and decide whether further investigation is needed or if the alert doesn't represent a concern. This feature alone allowed one of our biggest customers, a leading banking service provider in Europe and the UK, to reduce the number of alerts by 75% and simultaneously decrease alert handling time by 3x.

At Salv, we use Dow Jones Sanctions Control & Ownership data. Dow Jones collects comprehensive ownership and control data available from public sources, such as company reports, including beneficial ownership information about the subsidiaries. We update our sanctions lists three times a day to be in sync with the latest developments in the global sanctions landscape.
---
As we continue to build up our screening capabilities and align them with new and existing sanctions regulations, criminals too continue to adapt and evolve. Sanctions screening is not a magic bullet. Clearly, there is more we can do to stop bad actors from abusing our systems. Combined with the right approach to transaction monitoring, sanctions screening can act as the ultimate shield against financial crime. It can completely transform your compliance as well as the way you do business. No more sleepless nights worrying about things that are out of your control. We got you covered.
Don't wait until it's too late: sanctions screening is something you can explore already today. Have a taste of sanctions screening with Salv and get everything you need to ramp up your sanctions compliance.
Click here to request access to our sanctions screening environment.