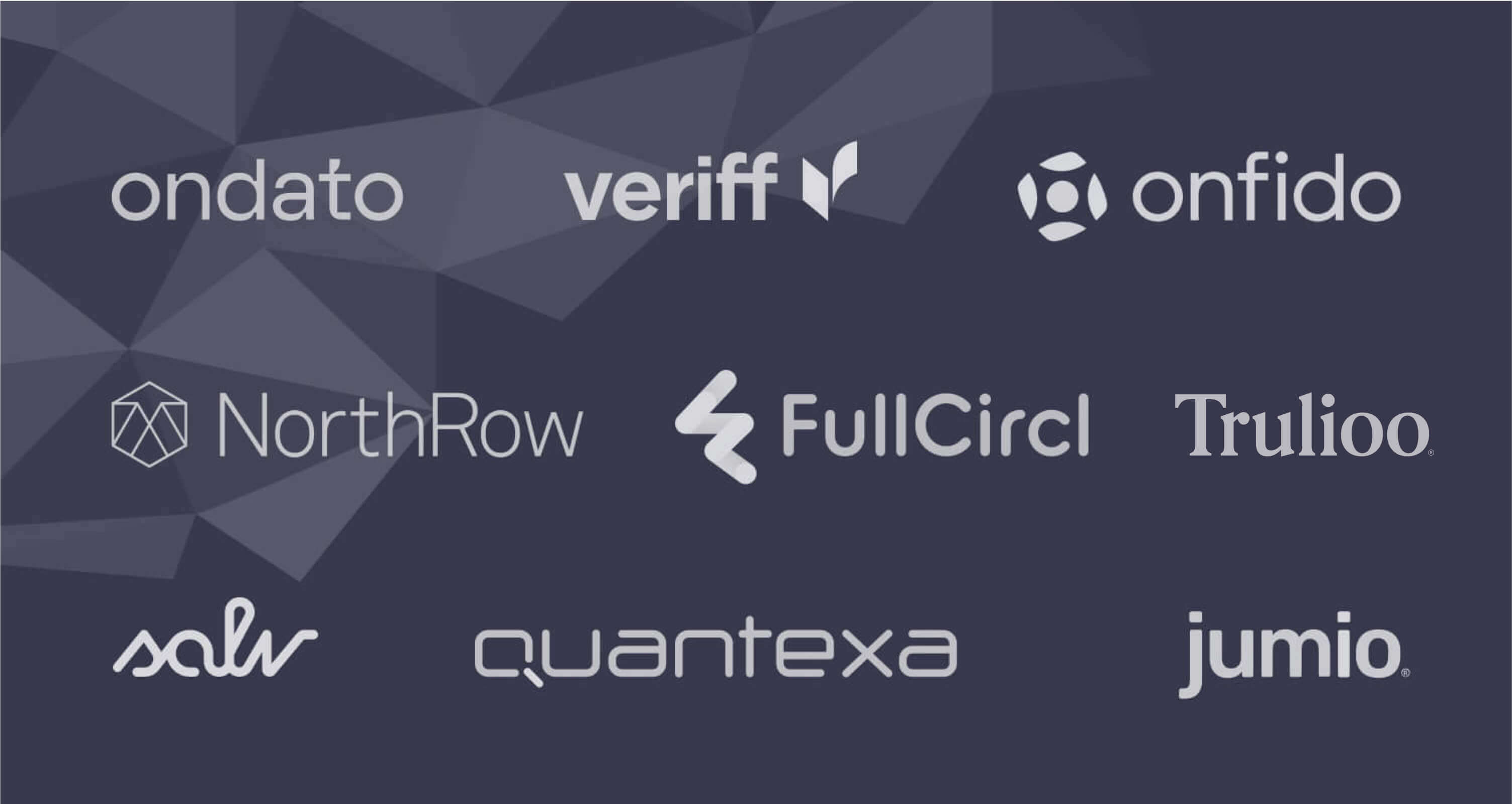 Know Your Customer (KYC) involves understanding complex customer relationships to prevent unauthorised activity, including identity theft and fraud. KYC checks allow you to identify and verify your customers and follow global compliance practices.
KYC checks are performed on new and potential customers when opening an account and periodically over time. With KYC software, you can get a better overview of your customers and reduce regulatory, financial and reputation risks.
These days, it's not just financial institutions that are required to perform KYC checks. More and more companies must protect their customers and business reputation.
We made a list of the best KYC software providers to help you comply with KYC regulations and onboard customers while minimising risks to your business:
Salv – All-in-one AML Platform
Veriff – AI-Powered Identity Verification
Ondato – End-to-End KYC Management
Quantexa – Contextual KYC Platform
Fullcircl – Automated KYC & AML Platform
Jumio – Online Identity Proofing and eKYC
NorthRow – AML & KYC/B Onboarding Platform
Onfido – AI-Powered Identity Verification Solution
Trulioo – Automated Identity Verification & Compliance
Before we get started, let's cover the basics.
What is KYC software?
Many companies choose KYC software to meet legal requirements and create an environment that provides safety and accountability for their customers. KYC software enables companies to develop trust and establish competitive market strategies while adhering to global regulations.
KYC software ensures that financial service providers and businesses operate robust policies and minimise the impact of money laundering, with consumer wellbeing in mind.
Features of KYC software
Your choice of KYC software should be based on the balance between compliance and good customer experience. Consider in your comparison the following features:
Identity verification to analyse digital footprints and better understand who your customers are
Document verification to verify the validity of submitted documents and prove document ownership
Customer onboarding to streamline the onboarding process and avoid application abandonment
Anti-Money Laundering (AML) features to enhance compliance defences with customer and transaction screening and monitoring. Here is our selection of best AML software
KYC software allows you to take advantage of the latest technology to overcome operational constraints, and reduce compliance workload and related costs.
Best KYC software and tools
Salv
Salv is a RegTech company that delivers AML software for banks and fintechs, taking them beyond traditional approaches in compliance. Salv does not provide full KYC functionality, but it can save you a lot of time and money by weeding out fraudulent users and keeping your good customers safe.
Salv Platform takes care of your customer and transaction screening and monitoring with real-time checks and easily configurable rules. Its one and only counterparty monitoring feature gives you visibility of all counterparties, including those who are not immediately flagged as suspicious.
Salv Risk Scoring is a component of Salv Platform, designed to calculate customer risk based on KYC data and transactional behaviour.

Best thing about Salv: The score produced by Salv Risk Scoring can give you a better understanding of your customer risk landscape. Risk scoring rules can help you detect potential issues and mitigate the risks. Salv's risk scoring rules match the latest FinCEN & FCA guidelines and audit scenarios.
Veriff
Veriff offers leading-edge technology to simplify and streamline your KYC processes. By integrating AI functionality into its products, Veriff brings a new level of precision and transparency to the onboarding process, allowing you to quickly identify fraudulent activity and make necessary changes.
Veriff's automated and customer-focused approach delivers clear benefits to consumers and businesses, proved by higher fraud prevention rates and faster conversions of valuable customers.

Best thing about Veriff: You can secure customer accounts and convert more account holders with advanced facial recognition and assisted image capture technology. Veriff replaces legacy authentication practices and creates a safe environment for the consumer.
Ondato
Ondato provides a modular operating system for end-to-end KYC management and customer onboarding. A single dashboard view allows you to navigate through Ondato's modules seamlessly: you can verify and onboard new customers, authenticate returning customers, and manage customer data.

With Ondato, you can build a robust KYC platform by choosing modules that match your business needs. This approach can help you reduce operational workload and KYC-related business costs. Best thing about Ondato: Ondato covers the full spectrum of compliance challenges, providing a central hub for AML/KYC compliance. The prices are quoted on the website – decide if it's right for you before you book a demo.
Quantexa
Quantexa enables contextual decision intelligence to give you a better picture of your customers, optimise and automate compliance processes, and drive more intelligent decisions. Quantexa guides you with context, matching internal and external data points to detect hidden risks and enhance customer experience and operational performance.

Best thing about Quantexa: Contextual Decision Intelligence (CDI) platform provides a connected view of data that facilitates a deeper understanding of KYC. Quantexa's contextual approach takes you beyond direct risk identification and unlocks new growth opportunities while reducing time and cost throughout the KYC lifecycle.
Fullcircl
Fullcircl offers a customer lifecycle intelligence platform that maximises customer relationships and streamlines onboarding with automated KYC checks. The platform matches data points and enriches data to create deeper insights for your business.
API-first approach allows you to seamlessly integrate Fullcircl solutions, automate manual processes and optimise KYC operations with an accurate and contextual view of data.

Best thing about Fullcirl: Fullcircl transforms onboarding and reduces customer acquisition costs with a higher level of automation and contextualised view of data. Sophisticated data-matching algorithms and visualisation methods can give you a good overview of potential business customers and partners in the UK and Ireland.
Jumio
Jumio helps you reduce inefficiencies in your onboarding process by offering a complete suite of identity verification, authentication, and AML solutions. With Jumio, you can build trust in your customers – trust which has commercial value. By carrying out enhanced identity checks, powered by Jumio KYX Platform, you create a safety net for your customers and your business.

Best thing about Jumio: Jumio has been around since 2016 and has already processed over 1 billion transactions from over 200 countries. It offers integrations with Amazon Web Services (AWS), Azurian, Microsoft, Oracle, Okta, and more. Give it a try!
NorthRow
NorthRow is a leading provider of onboarding, customer remediation, and regulatory compliance services. You can optimise your customer onboarding and monitoring processes with NorthRow's fully managed, low-tech service for enhanced due diligence. NorthRow is easy to integrate and easy to use. You can configure NorthRow to your requirements by using a single API solution.

Best thing about Northrow: it brings together a powerful combination of AML and KYC services and tools, streamlining your transition to a better customer experience and faster growth.
Onfido
Onfido will guide you through the complex thickets of digital customer acquisition and identity verification solutions. Onfido connects your business with your customers in an authentic and genuine way, while helping you to maintain KYC and AML requirements in each of the regions where you operate.

Best thing about Onfido: In 2022, Onfido launched its Real Identity Platform with the objective of making identity verification a more simple, intuitive, and intelligent process. Onfido's Real Identity Platform combines trusted data sources, biometric verifications and fraud detection signals.
Trulioo
With Trulioo, you can automatically verify customers anywhere in the world, scale and grow your business while making sure it fits seamlessly into the local verification ecosystem. Trulioo provides you with one integrated platform that serves as a centralised gateway to online document verification, business verification, including AML/KYC checks on ultimate beneficial owners, and proof of address verification.

How to choose KYC software
KYC software comes in many shapes and forms. Some providers focus on identity verification and customer onboarding, while others emphasise contextualising data and enhancing the entire KYC lifecycle with data-driven insights.
When choosing a KYC vendor, you want to ensure they can help you understand and manage customer risk, improve the onboarding experience, and handle regulatory compliance. You want to minimise fraud in the onboarding process, maintain a superior customer experience, and make it cost-efficient.
There are a few more steps you can consider to make the process easier:
Understand your company's needs. Depending on your requirements, you may want to choose individual components like identity verification and biometric authentication. Or choose a more comprehensive end-to-end solution covering KYC and AML processes and ensure the integrity of your compliance program.
Check the effectiveness of your KYC software. Test customer data, pay attention to the speed of manual reviews, and cross-check the results. This should give you a solid understanding of your vendor's technology and ability to deliver tangible outcomes.
Make sure the integration process doesn't take too long. How soon will the system be integrated, and how long are you willing to wait? Make sure you can integrate and access your KYC software quickly, and reduce cost and time.
Frequently Asked Questions about KYC software
What is KYC?
KYC means "Know Your Customer". It describes the process of verifying customers' identities and removing bad actors early in the onboarding process.
KYC check is a mandatory step that involves assessing customer risk when opening an account and periodically over time to reduce fraud, corruption, money laundering, and terrorist financing.
What does the KYC process include?
The KYC process is based on identity verification and authentication, including digital ID document verification, face recognition, and biometric authentication. It's not just financial institutions that must comply with KYC regulations – nowadays, the responsibility lies with companies across various industries.
What are the components of an effective KYC framework?
Customer Identification, Customer Due Diligence (CDD), and Enhanced Due Diligence (EDD) are the three components of an effective KYC framework. Together they add up to a multi-step process of collecting customer information from trusted sources, scrutinising it for inconsistencies, understanding the risks and responding effectively.
While CDD provides tools to differentiate between lower and higher-risk customers, EDD provides measures to drill deeper into customer relationships, detect and thoroughly investigate potential wrongdoing.
What are the benefits of KYC?
KYC compliance prevents flagged individuals from taking advantage of the financial system and minimises disruption in the industry. When done right, it can positively impact your business reputation and credibility in the market, transforming relationships with your competitors and customers.
---
KYC software is paramount to building an effective onboarding process and monitoring customer relationships for potential risks. It empowers you to make informed decisions and act on them.
KYC software has many features to strengthen your compliance while unlocking opportunities for innovation and growth. It may or may not cover money laundering and fraud detection, which can be a deal breaker for regulated institutions.
There are a multitude of options for you to consider. At the same time, you don't have to choose one or the other and feel like you are missing out on something.
Click here to learn how our modular, customisable platform can fill in the gaps in your AML/KYC program and save you loads of time – you won't need to look for another provider again.